The experience of being a new mom can be an overwhelming one. You have your baby to think about and you also have to consider your own well-being. How can you have a happy baby if you are not happy yourself? There are lots of things that will make a mom happy. If you know a new mom who is need of a little pampering, you might be wondering what first time mom gifts you could get. Particularly if you are not a mom yourself or it has been a long time since you yourself were a new mom.
You may also like:
Here are some ideas for gifts for that new mom. Some of these are new mom gift baskets, others are appropriate as individual gifts. Others still are ones that you may choose to put in a gift basket for a first time mom if you are putting together a gift basket yourself. If you can afford to and would like to splurge on a nice gift that will be appreciated, this frequently updated guide is for you.
Disclaimer: At no additional cost to you, I may get a small commission for purchases made through links within this page.
9+ Luxury (non-budget) pampering gifts for a First Time Mom
1. Encouragement Gift Set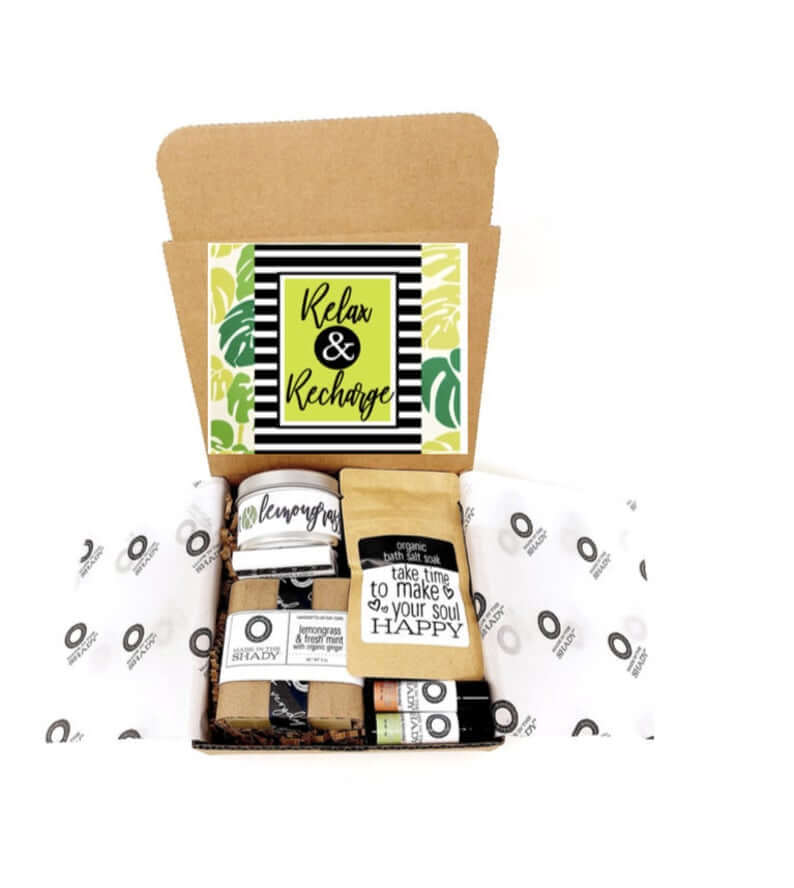 This Encouragement Relax and Recharge Gift set contains soap, matchsticks, a candle, a bath soak and lip balm. You can add more items with upgrade options.
2. Clarins Bust Firming Lotion
There are some great reviews about how skin-firming this skin product is. It has become a favourite of moms who have been using it for over a decade. It is one of those lovely first time mom gifts you can pick out to give either on its own or in a gift basket.
Postpartum depression (PPD) and postpartum anxiety (PPA) are more common among mothers than many people (including moms themselves) would believe. The complete change in your family and relationship structure when there is a new baby can take a toll on a new mom. Sometimes, having a daily or weekly conversation with a professional who can guide you as to how to re-organize your time and expectations and those of your family members can be all you need to make a smooth transition to motherhood.
Get your new mommy friend a paid subscription plan for an online therapist to give her a convenient way to work through new problems that come up or simply have an impartial person to talk with. With Online-Therapy.com, you have three subscription options to select from depending on what you guess your mommy friend's needs might be.
These reusable ice packs freeze quickly and fit easily and comfortably inside a bra. They will also warm up in the microwave very quickly. They provide great relief from the discomfort that can sometimes develop during the earlier days of breastfeeding. They are also excellent for use on the perineal area which is an issue that can easily go on for a while postpartum – especially after a vaginal birth.
When there is no longer any use for them for mommy, they are also useful as warm and cold packs for the whole family. For the number of uses that it could provide, it is great value for money! What a practical addition to a new mom gift basket.
5. Maternity Nightwear
Breastfeeding mamas, especially those who breastfeed for a longer period of time, often find that considering what to wear each day that will make nursing easier is one of the biggest problems they have. Make a new mom's life easier by giving her the gift of maternity pyjamas to add to her most likely restricted nursing wardrobe.
Choose something cool and comfortable and ideally specifically made for nursing. These pyjamas will make night nursing more convenient for her. I adore the style of nursing nightwear pictured below though, as it is a more trendy new mom gift but also just so practical and cute. You can gift them early on so that they can be used in the hospital as well.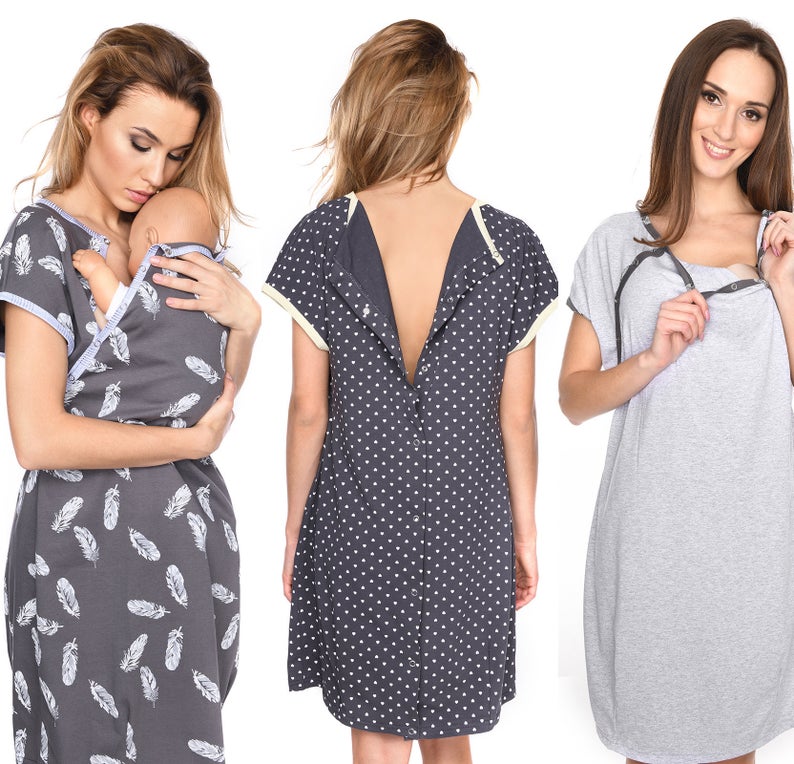 6. Postpartum Care Package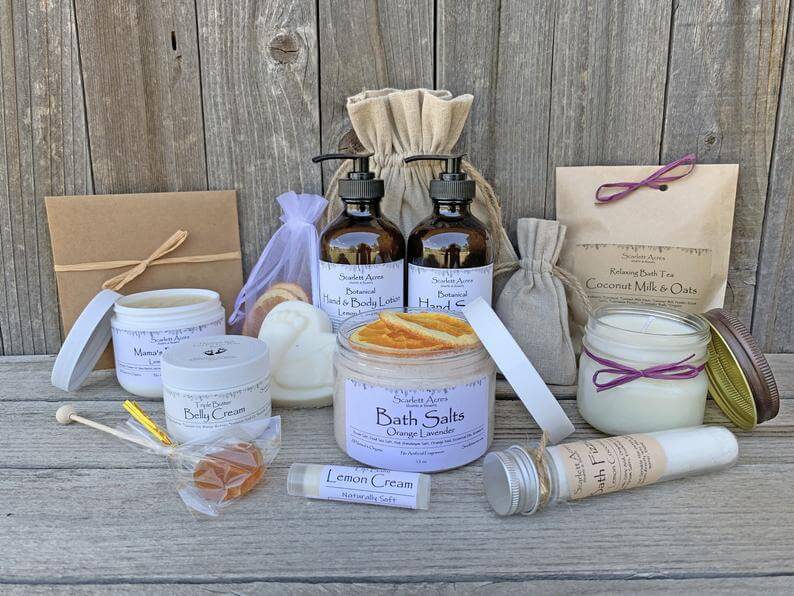 This contains essentials oils-scented bath products. It is sensitive-skin friendly because the products are natural and organic. The products in this new mom gift box are scented with lemon and lavender. You get a candle, belly cream, belly rub, body lotion, bath tea, and more!
7. Elemis Pro-Collagen Marine Cream Ultra-Rich
I'm a big Elemis fan. I have been since I worked with them for a short time while I was in University. To me, all their products are luxurious. I'd, however, recommend this for a new mom because it offers the rich moisturisation that a new mom's skin needs.
8. An Audible Gift Membership
Give a new mom something fun and interesting to do when she has a moment on her hands but can't quite move or go anywhere. For example, breastfeeding time. When a mom is nursing, having something interesting to listen to makes an even more fruitful session. Especially those late night and very early morning nursing sessions.
Audible is the perfect gift for that mom who would like to catch up on podcasts or listen to novels. It is access to exclusive and original podcasts and any audiobook and your mommy friend gets to keep all the books she gets – even if she cancels her membership. This is a fairly unique new mom gift and if your giftee is a bookworm anyway, she will be in seventh heaven. It is a great way to leave your current life for a second and delve into a good story. It also helps to get your creative juices going.
9. Water bottle
This is another thoughtful addition to a new mom gift basket.
Moms have to make a conscious effort to drink as much water as they can throughout the day. To maintain their energy as much as to aid milk production if they are breastfeeding. Make a mommy's life easier by gifting her with one of these eco-friendly, BPA free leak proof water bottles. She can use this to monitor her water daily water consumption.
You may also like:
When it comes to first time mom gifts, I would say that this is definitely up in the top 5! If a new mom does not have a bunch of friends and family who can cook for her daily or weekly, even thinking up what to make for herself and her family every day can become a headache. Take the worry of meal planning away by getting her meal subscription. For any period of time, she could have the joy of going online to select meals that she would like to try out and have the pleasure of preparing them herself knowing that they will not take forever to make.
Dinnerly is a great service to use if you are in the United States. Your mom friend would simply pick out her delivery day and she would get her ingredients delivered to her door. It is also affordable enough that she could consider continuing the subscription after her gift has ran out.
What is the best gift you ever received as a first time mom?
Please follow and like us: