Who doesn't love pancakes? In an average family of say, five people, you are unlikely to find that all five people do not love pancakes. They are easy to make and you can adapt them fairly easily to create a variety of types. There is nothing better than easy pancake recipes for kids that assure you that your children are getting some nutrition and are also really enjoying their food.
In this article, and courtesy of some amazing ladies, I bring to you some of the most awesome quick and easy pancake recipes that kids of all ages will love. The added benefit is that you will love them too! Pancakes tend to be an all-around hit with families. Below, you will find sweet and savoury pancake recipes of all sorts including some that work for you if you have special dietary requirements. For example, if you would rather not use baking powder, eggs or milk, you will find a recipe here that works for you and for your family.
26 Easy Pancake Recipes for Kids
These aren't your average unhealthy pancakes, these are full of protein, don't use sugar and are gluten free. Make them for breakfast or for dessert.
2. Fluffy Cornmeal Pancake recipe
These Cornmeal Pancakes are light and fluffy and are perfect drizzled with maple syrup or honey and topped with warmed salted butter! It's the ultimate comfort food that is ready in just under 30 minutes form start to finish.
RELATED: Quick and Easy toddler breakfast recipes
Make these fluffy Instant Pot pancake bites for your next family breakfast! They're so easy and quick to make, and they're really fun to eat! Bite-size pancakes with different flavors, blueberry, chocolate chip, the possibilities are endless!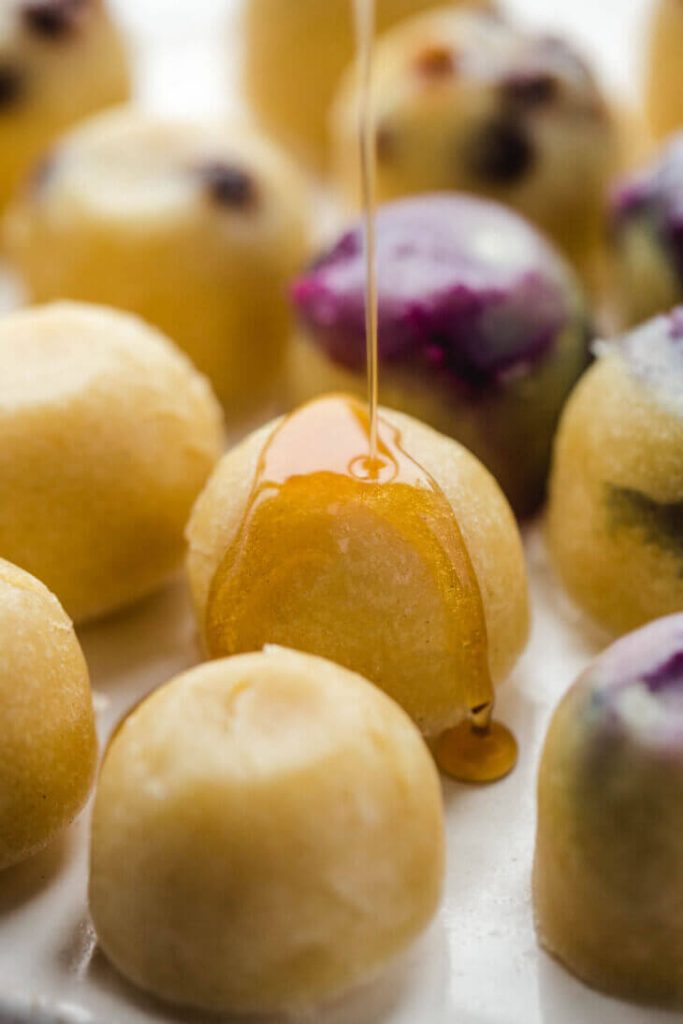 These Polish Apple Pancakes are made with apples that are dipped into pancake batter, then fried and topped with powdered sugar or a sweet syrup! This is one of those extra sweet but easy pancake recipes for kids.
5. Fluffy smoky bacon pancakes
Fluffy homemade pancakes combined with crisp smoky bacon (topped with maple syrup of course) is pretty much the best breakfast combo. Sweet, salty, and delicious.
Homemade Banana Pancakes are the perfect way to feed a hungry family or a crowd! Packed with just the right amount of sweetness in one flavorful, fluffy pancake.
These Matcha Pancakes are such a treat. They are incredibly tasty. Soft, sweet, vanilla flavored, absolutely delicious. So easy to make too, using only a few simple ingredients. Loaded with heart-healthy oats and made without refined sugars.
8. Mint Chocolate Chip pancakes
Chocolate chip pancakes with mint chips too stack with easy homemade vanilla syrup for an exciting breakfast recipe. They are great for St. Patrick's Day!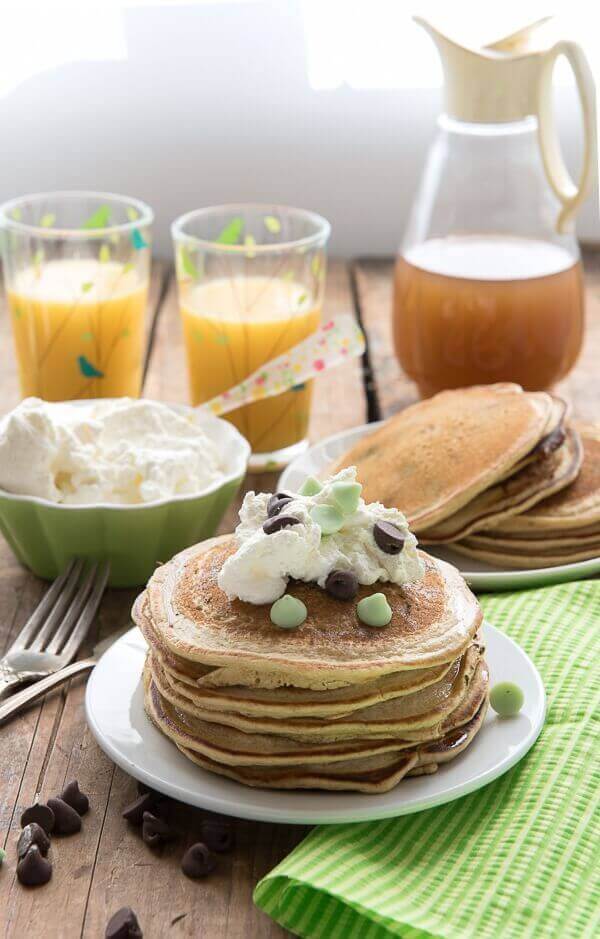 These Healthy Greek Yogurt Pancakes are the fluffiest and softest pancakes ever! They're made with gluten-free flour, Greek yogurt, and whipped egg whites.
Looking for some more specialized pancake recipes? You will find keto and vegan recipes to try out below.
Keto Pancake recipes
10. Banana Pancakes
A secret ingredient makes keto banana pancakes possible, with just 4g net carbs per serving! These low carb almond flour banana pancakes taste like banana bread.
READ: 13 Cheap and Easy family meals on a budget!
Vegan Pancake recipes
11. Fluffy pancake recipe (Easy + Vegan)
Add a little sunshine to your day with these easy vegan pancakes. After all, who wouldn't love a warm stack of fluffy golden pancakes topped with their favorite fruit or syrup? This recipe incredibly produces 24 medium-sized pancakes.
12. Protein Pancakes
Nourish your mornings with these Healthy Vegan Protein Pancakes. They are fiber-rich, completely satisfying and packed with 15 grams of protein per serving.
The perfect way to start your morning! Loaded with cheddar cheese and green onions, these pancakes are flavor-packed and satisfying! Who can resist?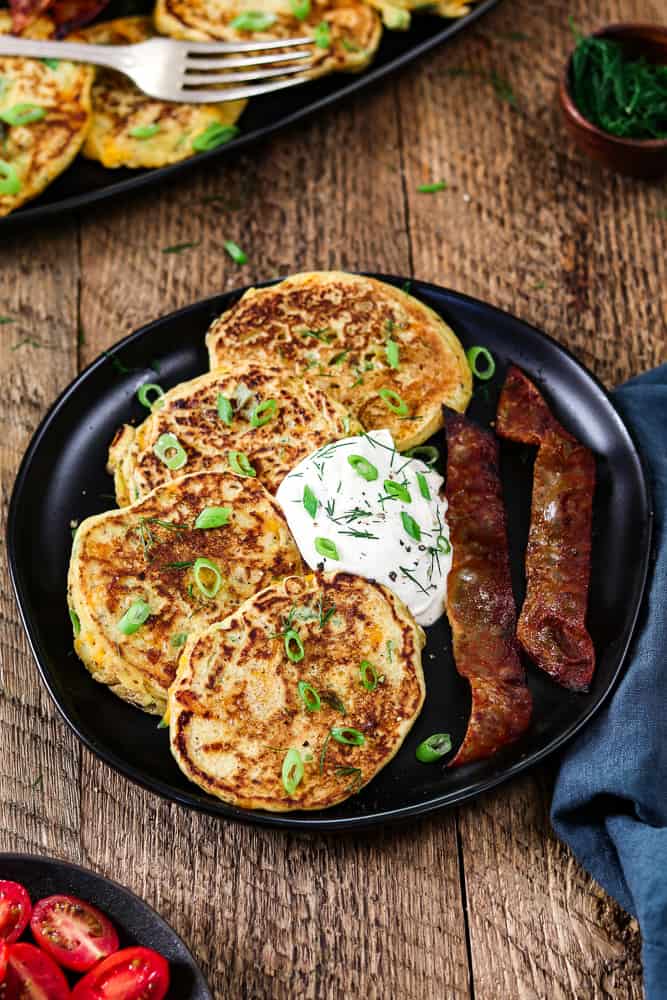 Easy and FLUFFY baked vegan blueberry pancake. You only need one bowl, an oven-safe tray and the simplest pantry ingredients.
If you are looking to avoid frying altogether, try out these baked pancake recipes.
Baked pancake recipes
15. Easy baked chocolate chip pancakes
Chocolate Chip Pancakes are a perfect way to start a weekend day. These EASY baked pancakes are fast enough for weekdays too! They make breakfast feel special whenever you serve them.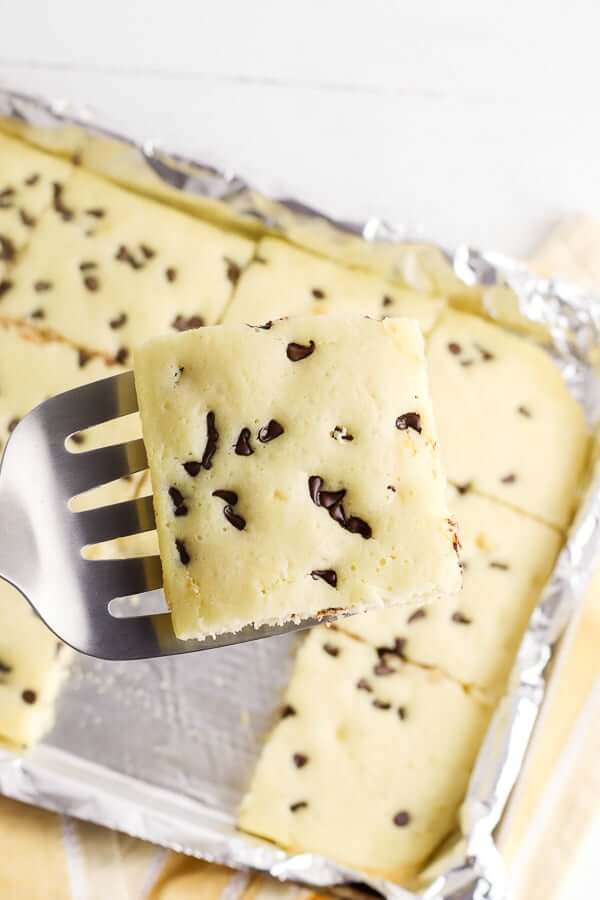 Easiest way to cook breakfast for a crowd or as a breakfast meal prep, these Sheet Pan Pancakes are easily baked in the oven will definitely make mornings more delicious!
Easy pancake recipe without baking powder
Serabi Kuah are delicious Indonesian pancakes that you enjoy with palm sugar syrup and coconut milk. It's easy to make and delightful to eat. A perfect choice when you want a treat for your breakfast.
Quick and easy pancake recipe without eggs
18. Easy Sweet Potato Pancakes
Pancakes for toddlers do not always have to include eggs and dairy milk. Enter these delicious sweet potato pancakes. They're quick and easy, dairy and egg free, use simple ingredients, and they're pretty healthy too!
19. Eggless pea protein pancakes
This high protein vegan pancakes are made without eggs or banana! Naturally vegan, super fluffy yet easy to make.
Quick and easy pancake recipe without milk
20. Peanut Butter Oatmeal Pancakes
Deliciously nutty and sweet, these Peanut Butter Oatmeal Pancakes are the perfect quick breakfast. These pancakes are easy to make with simple pantry ingredients, packed with nutrients and incredible flavor.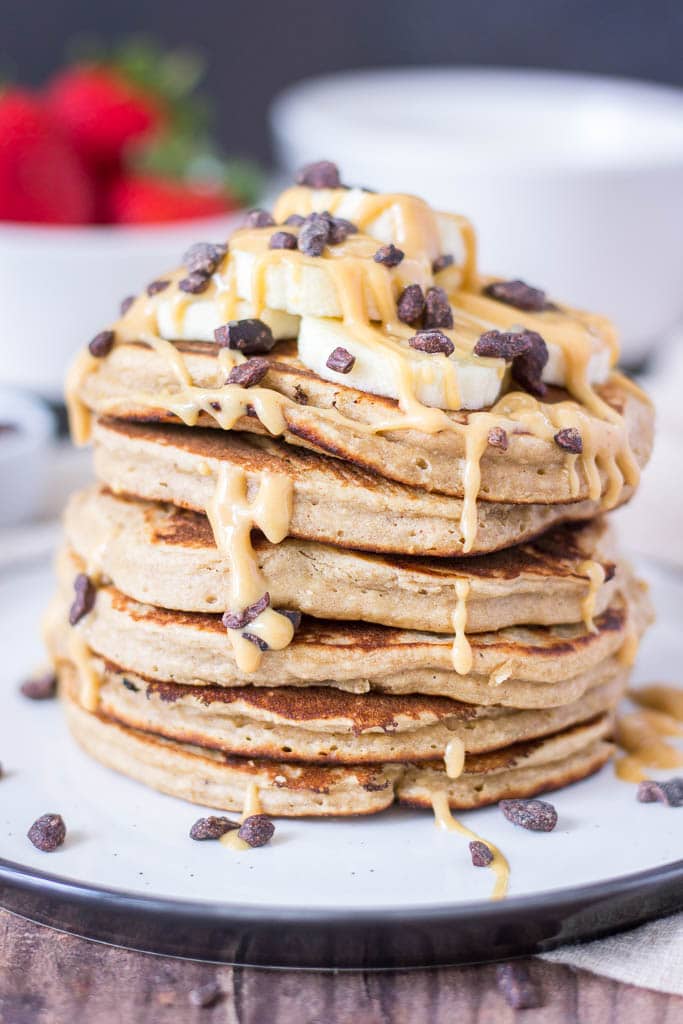 21. Vegan fluffy pancake recipe
These are beefed up vegan American-style pancakes with no dairy or eggs.
22. Chocolate Peanut butter Chickpea pancakes
This gluten-free pancake recipe is amazing! Whether you're dairy free, egg free, gluten free – or all three, this is the breakfast (or lunch or dinner) for you. The combination of chocolate and peanut butter will leave you feeling like one of the kids in the Reese's puff commercials floating through swirls of peanut butter and chocolaty goodness, but also give you stable fuel to get through a busy day.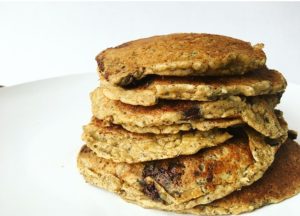 23. Banana Pancakes
This super easy and healthy 3 Ingredients Banana Pancakes recipe is the proof that breakfasts don't have to be complicated to be delicious. They don't have to include milk either. These quick Sugar-Free Banana Pancakes will be ready in less than 20 minutes and kids LOVE them!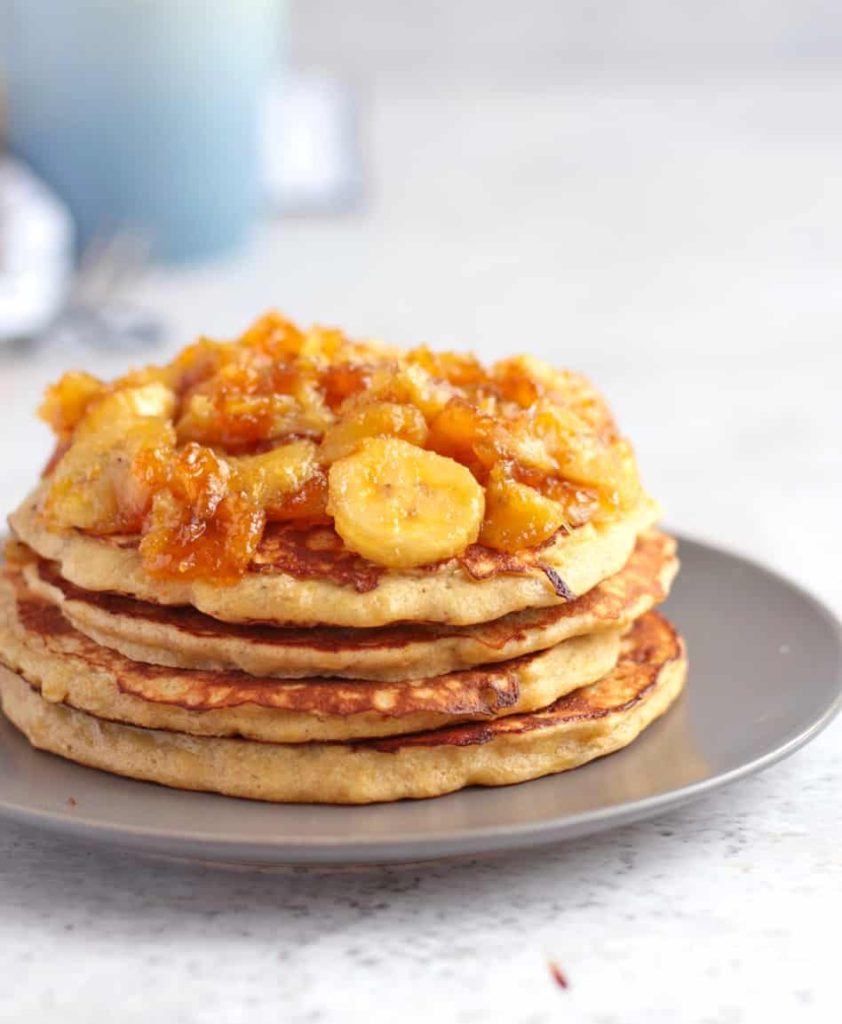 Celebratory Pancakes
Easy pancake recipes for kids are awesome because you can turn them into anything you want. These festive and colorful funfetti pancakes are super quick and easy to make from standard ingredients you most likely already have in your pantry. Stacked up a mile high and served on a small cake stand, these gorgeous funfetti pancakes can easily double as a breakfast birthday cake.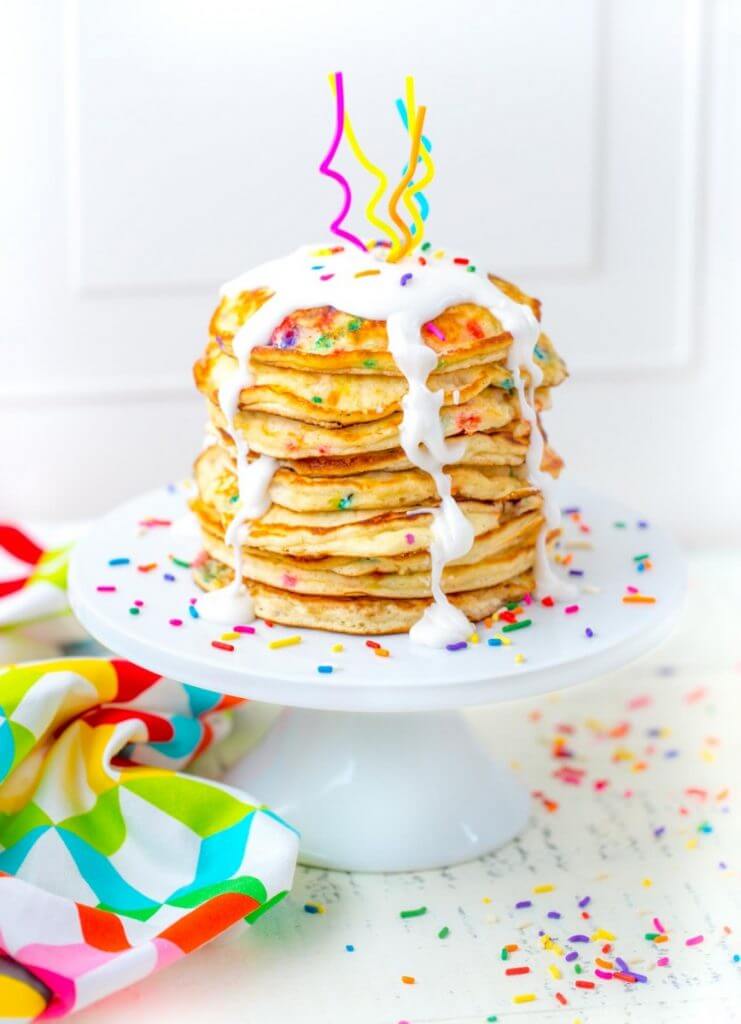 Pancake mix recipes
25. Buttermilk pancake mix with bananas
An awesome celebratory recipe for when you do have enough time to start from scratch! This shortcut King Cake Pancakes recipe starts with pancake mix and bananas! Drizzle simple icing over a short stack of these light and fluffy pancakes, sprinkle gold, purple and green sanding sugar over the top. Trade out other colors for other occasions.
Homemade Pancake Mix
26. Easy homemade fluffy pancake mix
This homemade pancake mix makes the tastiest fluffy pancakes in a matter of minutes. All you have to do is add water. So keep this convenient mix on hand for a quick and easy pancake breakfast any day of the week!
Which pancake recipe calls out to you the most?
Please follow and like us: