Being related by blood does not make buying gifts for siblings any easier than buying gifts for a stranger. It may in fact make it more difficult. That is because you may feel more pressure to know exactly what your sibling wants as a gift. It is worrying to think that you might get it completely wrong. You might also be here because you want to find a gift for a child to give to their sibling.
Either way, this will be a helpful and practical guide for you.
What is a good sibling gift?
This really depends on the age group you are catering to.
If you are getting a gift for siblings of a new baby from the baby, then good gifts are anything that you know they are very much into at the time. That could be a television show, a set of toys or a series of books, for example.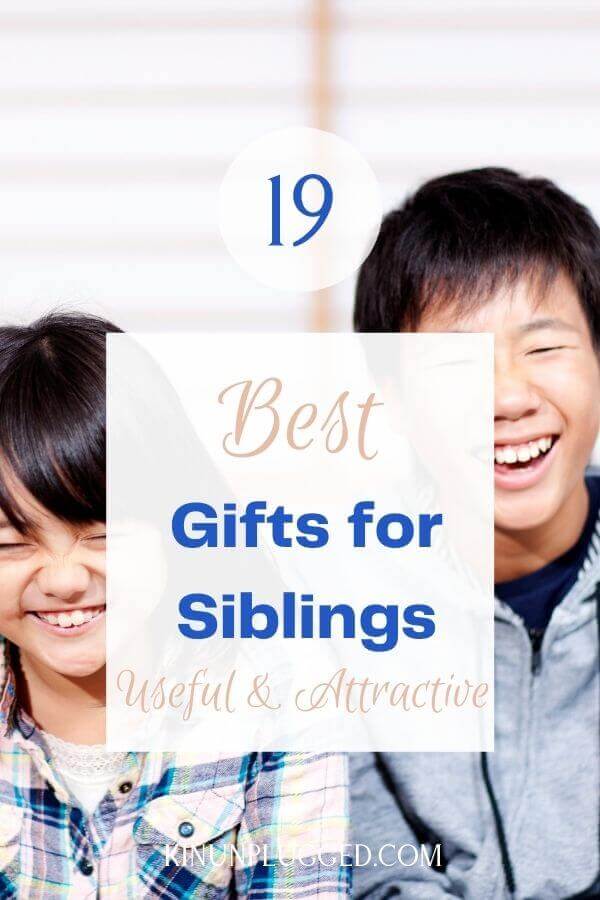 For good sibling gift ideas between two siblings in their twenties, for example, it is definitely going to be a different set of options. Apart from being able to choose from a more mature set of options, there is also longevity of the relationship. The siblings would have an established relationship which means that they know each other better and so may be able to more easily judge exactly what each wants as a gift.
19 of the Best sibling gift ideas
Disclaimer: At no extra cost to you, I may receive a small commission from purchases made through the links on this page.
A collage of photos from childhood. This works really well as gifts for siblings for Christmas or as gifts for siblings to share. Create a collage of memorable times that older siblings shared in their childhood to remind of funny moments, or family trips taken together, for example. 
Matching outfits. These are good gifts for siblings of a new baby. Get clothing or outfits that match in some way and in different sizes to fit each sibling. This is a cute way to create more cohesion in the family as well. 
Bluetooth speaker. Everybody needs some music in their lives. We do not always want it in earphones either. Get your sibling a high quality Bluetooth speaker or Bluetooth speaker set to give them the gift of crisp, clear and easily accessible music. 
Engraved spoon. This is one of those sibling gift ideas that work for almost any age. You can get a small or big spoon engraved with a special message for your sibling for Christmas or for their birthday. 
A pair of sunglasses. Sunglasses are an accessory that everyone will appreciate. Help them protect their eyes from ultraviolet light with a pair of fashionable shades. 
Personalized pocket watch. A pocket watch can be such a personal and meaningful gift to your sibling if you get it engraved with a heartfelt and/or significant message. They are very good gifts for siblings. 
Funny coffee mug. Share a funny memory or make an inside joke on a mug and gift that to your sibling for their birthday or to mark any other special occasion. A coffee mug will come into good use throughout the day for your sibling from morning to evening and is therefore undoubtedly a great purchase. 
Cook them a meal that they love but do not often get to eat. Go out of your way to cook your sibling a meal that you are sure they will appreciate. Do not be deterred if you are not a natural cook. Follow a recipe as best as you can. Know that your sibling will appreciate your effort regardless of how it turns out.
A pretty scarf. These are one of those cheap gifts for sisters that will not dent your pocket too badly unless you want it to. You can choose how much or how little you want to spend and still get a lovely looking scarf either way. 
Personalised storybook. Looking for a new sibling gift? Or a gift from baby to sibling? A personalised story book is ideal. If you want a gift for your toddler to give to their new sibling, come up with a cute little story line with your kids as the characters and it will be a gift for your younger child to treasure for the rest of their life. 
Necklace. This is a piece of jewelry that a person will literally keep close to their heart. This is a great gift for siblings for Christmas. Make it even more special by getting a pendant or locket made into two halves of a shape that will be significant to both of you. Yourself and your sibling can each wear this from a necklace. It is one of those thoughtful gifts for siblings to share.
Photo frame. Don't get just any photo frame unless it happens to be one that you know your sibling wants or is your sibling's favourite colour. Take it a step further and get it personalised with an engraved message. You can also put in a special photo of yourself and your sibling(s) and have the year the photo was taken engraved on the frame.
Perfume. If you know your sibling's favourite perfume, this is the perfect gift for them on any occasion!
Engraved glass. Again, personalisation is the key to making a simple item into a memento that your sibling will cherish forever. For example, you could have your sibling's birth date engraved on a glass tumbler and that makes for a great gift for both their birthday and Christmas.
Engraved wooden watch. A wooden watch is a unique enough item on its own to make your sibling's day. Add some engraving to give a special touch.
Leather journal. If you have followed this blog for a while, you will know that I champion journaling. Contribute to your sibling's peace of mind by gifting them with a journal that they can use to record their thoughts daily. 
READ: The benefits of Journaling
Prince or princess for the day. Wait on your sibling hand and foot for the day. Yes, they will relish being able to send you around but it will probably also give you some nice quality time together.
Art print. Get your sibling a beautiful piece of art. They can keep it forever and it could be a print of something that is significant to your relationship. This is one of the best gifts for siblings to share as well if you need to give a gift to a pair or set of siblings.
Scented candle. Choose a scent that you know they will love. Make it a seasonal scent if you are unsure. This is a pretty gift that will nicely grace every home.
Those are some of the best gifts for siblings. Which item on this list will you be gifting to your sister or brother?
What is the best gift your sibling has ever given you?
Please follow and like us: