It is true that moms can be like octopuses – juggling a million activities at one time. If you are about to become a mom of two under two, you must be wondering how you will cope. In this article, you will find some practical two under two hacks to help you make that two under two transition.
How can you make life easier with 2 under 2?
To put it simply, you have to be strategic. You will not always get it right either. No matter how strategic you are, purely by virtue of the fact that you are dealing with children, things will sometimes be unpredictable. While making plans, you also have to be prepared for plans to change and go wrong. Having said that, you can always try.
All the two under two hacks you will find below are aimed at saving your mental health and physical health while also finding time to enjoy being a mom to both kids.
RELATED: Self care tips for moms with kids at home
How to prepare for two under two
Here are 11 of the most practical ways to prepare for and cope with having two children under two years old. These two under two hacks will be your guide to success and you should thoroughly consider them even before baby arrives if possible.
Lower your expectations. This is probably one of the most important things if you are looking for two under two hacks. Lower your expectations of yourself and of everyone else. You are amazing but you are also human. There is only so much you can achieve in 24 hours and with two tiny people depending on you. Do not expect too much from the people around you as they can also only do the very best that they can to support you.
Identify three specific stress points in your life. What are the three biggest things that make you feel the most anxious or the most stressed as a mom? You need to figure out how to put those three things under control. If you cannot control them, figure out how to better manage your stresses around those three issues.
Get everyone to pitch in. This is one of the biggest two under two hacks. of course, not every mom has access to any kind of help or support but where you can, take advantage of it. Yes, you cannot expect the world of the people around you but you can attempt to get them to help out where they can and when they can. From your husband to your children to your brother-in-law, everyone can pitch in somehow.
Stay ready. Like you did with your hospital bag when you were getting ready to give birth, you should stay ready with your mommy bag. Make sure your bags are always packed with any and everything you might need for both children. Have it ready to go either in the trunk of your car or by your front door at all times and make sure it is well-stocked.
RELATED: What every mom should keep in a diaper bag
RELATED: All you need in your mommy purse
Plan low key days out. You will need to get out sometimes as a whole family or with both children. Even the shortest trip with two kids under two can feel like the makings of a nightmare when you have one of them needing a diaper change and the other one throwing a tantrum. You will feel more in control and at ease if you plan calm days out like short walks to park, for example. Keep it simple. Simplicity will also help to make sure that your toddler is kept calm enough rather than over excited.
Take turns with your partner. Take turns with your husband for quality time with your older one. It can become quite hard to continue to spend quality time with your older child when the baby comes along and you might worry that your toddler is being starved of your attention. While you might be worried for nothing, it will make you feel better if you can actually spend some alone time with your toddler occasionally. It will also be a bit of a break for you from your usual two-child routine.
Keep spares of everything in the car. From blankets to clothes to diapers, keep spares of random necessities in your car, if you drive. They will come in handy for those times when you might have forgotten to restock your diaper bag with one necessity or the other.
Find positive, encouraging quotes. Do not underestimate the power of positive words to boost your mood and self-confidence daily. Life as a mom can be quite a see-saw of emotions. Leaving some cards, for example, lying around the house with positive quotes can make a difference to how prepared you feel to conquer your day. This is one of the most under-used but very effective two under two hacks.
Related: Find my Self-Discovery Mommy Bundle here which contains positive and encouraging content for new and first time mothers
Clean as you go along. If you have enough time, you should clean as you go along instead of stacking up a pile of dishes in the sink. This is a fantastic tip for you if you have any obsessive compulsive tendencies when it comes to cleaning up and having things organized. You may not achieve a completely organized home at all times (because how many moms can do that?!) but it will go a long way in making sure that you do not feel overwhelmed when you do get the chance to do a thorough clean up.
Prioritize rest and sleep. This is one of the most essential things a new mom can do for herself as a form of self care. Very few new moms can say that they are getting the amount of rest and sleep that they truly require to function properly. Grab any free moment you can get to take a nap. You cannot always sleep when they sleep when you have two under two. They will invariably nap at different times and for different periods of time. You have to take advantage of other periods when you can nap. For example, you could ask a friend to watch your toddler for you while you nap with your baby.
Create a routine. This is important to helping you maintain your sanity as you always know what the plan is for the day. It is also good for feeling a sense of achievement when you manage to stick to your routine for the day. Create a routine but be flexible. That flexibility will prevent disappointment and frustration. You can plan all you want but unless your two under two are robots, there is no likelihood that things will always go according to plan. Have a backup plan for if days out turn into a cry-fest, for example. Simply let go of any idealistic expectations you have always held about adding another member to your family.
Should you decide to create a routine, you might be wondering how you should set it up. Below, I have written up a sample two under two routine that you could try out.
Two under two routine
Here is a sample two under two routine for you to try out with your babies. Your older baby may not quite be a toddler yet. Vary this schedule as you see fit to suit your family set up and your kids' natural timings.
Sample two under two routine 
6 am – Wake up and get both children ready for the day (bathe, dress up, all of you have breakfast)
8 – Nap for baby, play time with toddler
9:30 – feed for baby, more play for toddler
10 – play time for baby, snack for toddler
10:30 – feed for baby, play time for toddler
11 – nap time for baby, quick house tidy with toddler
11:30 – play with toddler while baby naps
12 – diaper change and nap time for toddler, feed for baby, nap for both yourself and baby if baby falls asleep after feed
1:15 – toddler wakes up, diaper change for both
1:30 – nap time for baby, your lunch time with toddler
2:30 – baby wakes, diaper change for baby then feed baby while toddler plays
3:30 – go for a walk together and/or visit the park, baby may nap during this time
5 – dinner time for all of you
6:30 – get toddler ready for bed while baby waits in playpen or on you in baby carrier
7 – get baby ready for bed while toddler plays
7:30 – read some books with toddler while feeding baby
7:45 – put baby to bed, then spend some quality time chatting alone with toddler before putting them to bed
13 Absolute Two under two must haves
Disclaimer: At no additional cost to you, I may earn a commission from purchases made through some of the links on this page.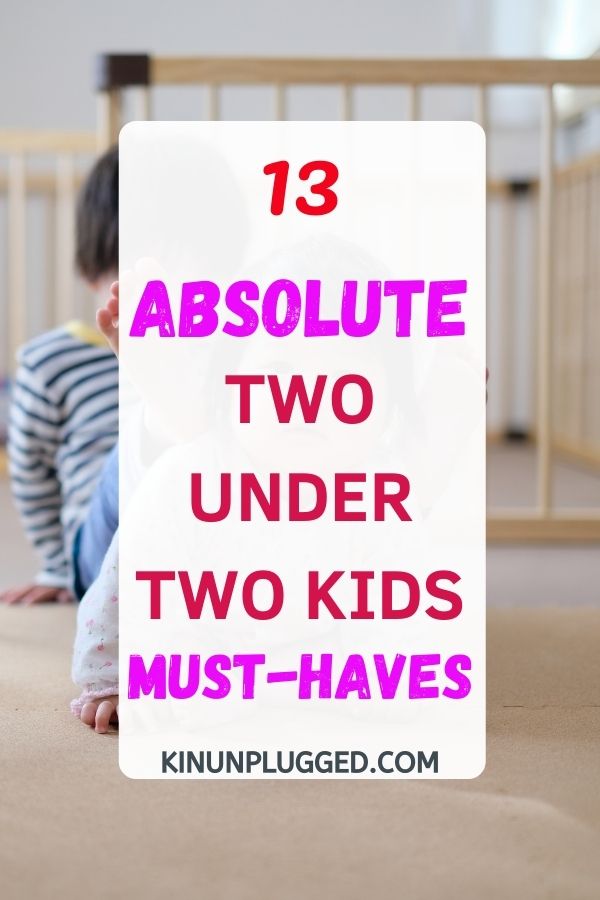 Having a routine in place will help you have easier days. However, you do only have two hands. Keeping some items in place to help is another one of those all-important two under two hacks that will help you prepare for life with your new little bundle.
Your day with two children under two years will go a whole lot more smoothly if you have certain items available to facilitate it. Think of those items as your two under two must haves. Your necessary items for 2 under 2 are listed below:
Are you about to have a baby and looking for two under two hacks? These tips are sure to help you out! Congratulations and all the best!
Please follow and like us: