There is nothing like some good and free printables for toddlers to keep them busy. It's even better if they are learning while they keep busy. There are some amazing and free printables available online, if you're looking to keep within a specific theme. Here, I'm going to show you seven awesome Valentine's Day Printables for toddlers that I've found online.
It's Valentine's Day and while there are suddenly hearts everywhere on television ads and in shops, you would like to be able to use some toddler activities and games to mark the day with your preschooler.
You may also like: The Best Valentine's Day Crafts for Toddlers to do at home
These printable activities for toddlers will provide the opportunity for you to bond with your little one while also teaching them something new or going over knowledge that they already have. And all in keeping with the theme of Valentine's Day!
7 Free Valentine's Day Printables for Toddlers
1. Printable Playdough mats for Valentine's Day
What a fun activity to try out with your preschooler for Valentine's Day! Playdough is an exciting activity for all kids as they can do any amount of crafts with it. It's the perfect outlet for their creativity.
2. Scripture Craft for Valentine's
These are Q-tip paintings that will be a fun faith-based craft to do with your toddler for Valentine's Day. It's based on the letter Q and therefore comes with a printable Bible verse that runs with the Q theme.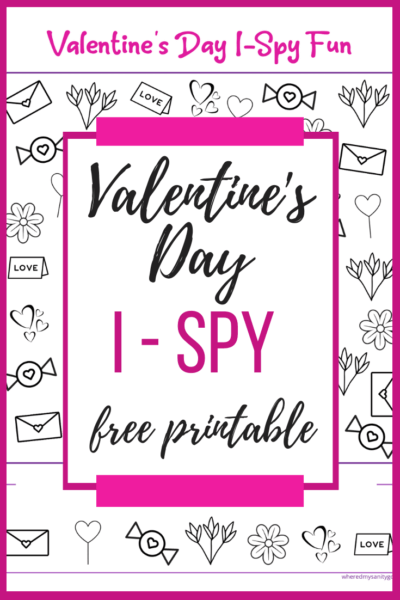 3. I-Spy Valentine's Printable for toddlers
Your toddler gets the opportunity to practice their colouring as well as identifying their colours. They also hone their fine motor skills and counting skills with this activity.
4. Matching Valentine's game printable
This free printable Valentine's Day matching game is low-prep and toddler-approved! Help your little one develop their matching discrimination skills while having fun with this toddler freebie.
5. Valentine's Odd one out picture printable
Let your toddler figure out which picture does not match the others with these worksheets. They all begin with a 'V' except for one. Once they've done all the matching, they can go on to colour the pictures in too. These free printable worksheets are suitable for kindergarten as well. Enter your email below to receive these worksheets for preschoolers to your inbox immediately.
With three printable game sheets, this game is an easy one to organize for your toddler at home when they come back from nursery or daycare with Valentine's cards from other kids.
7. Printable Valentine's Bingo Game
This Valentine's Day Bingo Game is a perfect game for a toddler's party at home. It requires no prep.It's a no mess game which is sure to be a hit among kids and adults. The perfect way to keep them busy and entertained for hours.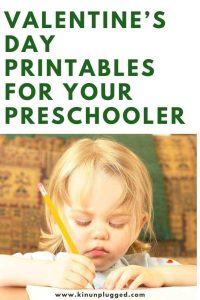 So there you have it. My pick of the 7 top Valentine's Day printables for toddlers online! Printable worksheets for kids simplify the learning process. Particularly when using them at home. They're also often good for all stages of the toddler age range as they can turn into colouring sheets for younger toddlers who are not yet able to understand the the information given. Don't underestimate your toddler though! They could surprise you.
Have you tried any of these printable activities for toddlers before?
No celebration with toddlers is truly complete without an edible treat of some sort! Here are a couple of Valentine's Day themed fun activities to do with your toddlers that involve food.
Try these edible Valentine's Day Activities too
Valentine's Day toddler sprinkling fun with Sour Cream Sugar Cookies with Cream Cheese Frosting
Celebrate Valentine's Day this year with your kids by decorating these sour cream sugar cookies with a cream cheese frosting! Kids love decorating them with sprinkles and colored frosting.
Poetry Tea for Valentine's Day
This easy Valentine's Day poetry tea is the perfect way to celebrate with kids at home! Plus it doubles as "lunch", so it's a win win for moms.
If you try any of these Valentine's Day printable activities for toddlers out, come back to let me know how they went for you!