Going to Walt Disney World is on my list of "life things" to do. I want my Disney experience to be one that every single member of my family enjoys. Ask anyone in my family and they'll say I've been planning a trip to Disney World for almost twenty years. They'd be right! Now that I'm a mom, I've specifically discovered mom tips for Disney World and my eyes have been opened to a whole new aspect of what my first trip to Disney could be!
I'm a planner but being a mom has turned me into a planner who considers that the best laid plans may not work out. If you've at least got some hacks to use, they make it easier to deal with situations that crop up unexpectedly. That's why I love all the Disney hacks I've found online.
I'm a planner but being a mom has turned me into a planner who considers that the best laid plans may not work out.
I've put together 25 of the best Disney hacks and Disney tips I've found online. Click through the links for further details.
Planning out your itinerary
…to plan your visit, stay informed of ride times, view the GPS interactive park map and most importantly sign up for Fast Passes.

Sonja & Jane from Sustain My Craft Habit
2. FIND AN AUTHORISED DISNEY VACATION PLANNER
Let THEM answer your questions on…There are so many details that go into a trip like this, so if you want to make the most out of your days and navigate your way around the parks easily during your vacation, rely on the expertise of a Disney vacation planner. You're investing a lot in this trip. . .so make it amazing by choosing a great partner.

Sara at Bitz & Giggles
3. INVOLVE THE FAMILY IN PLANNING
Carrie says:
Give them 2-3 Walt Disney World resort options and let them choose the one they want to call home during your trip. Show them how to download the My Disney Experience app, and more importantly show them how to use it. They will make great guides with the right tools!

Carrie via A Princess & Her Pirates
4. BOOK A SUITE OR VILLA IF YOU CAN
Especially if you have a larger family or are going with extended family. Kristin says:
This equals a less stressful vacation because everyone has their own space and is not stepping on each other's toes.

Kristin from Exploring Domesticity
5. BOOK IN YOUR ROOM CLEANING IF YOU NEED IT
Kristin recommends that you schedule your room cleaning service if you have little ones who'll need to go back to the room for naps.
If you plan to return to the room for naps, make sure to schedule housekeeping ahead of time. When the kids were 2 and 3, we made the mistake of assuming we could get into our room at naptime. Our room wasn't cleaned and we ended up just having to miss our service for the day because the kids (and us) needed those naps.

Kristin at Exploring Domesticity
6. BEST TO AVOID SCHOOL BREAKS & PUBLIC HOLIDAYS IF POSSIBLE
This is Angie's biggest recommendation for anyone visiting Disney World.
Families with children are often required to visit Walt Disney World during the high season, whether that be summer, Easter or Christmas due to school obligations…for this reason, high season is an exceptionally crowded time to visit…leads to many families having a disappointing trip, due to the crowds. You can avoid the disappointment by knowing what to expect during these busy times, and learning how to avoid issues.

Angie from Just Me & My Peeps
7. NOT ENOUGH TIME TO PLAN?
Nicole's awesome Disney-themed space has a post dedicated to helping you make it a great trip even if you don't have enough time available to plan it out. Erin also has some ideas on how to plan last minute Disney World trip!
Getting around on site
8. UTILIZE THE DISNEY TRANSPORT AVAILABLE
Remember you can hop on the train at the Walt Disney World Railroad to save yourself the walk from one end of the park to the other. This is a lifesaver when legs get tired.

Sonja & Jane from Sustain My Craft Habit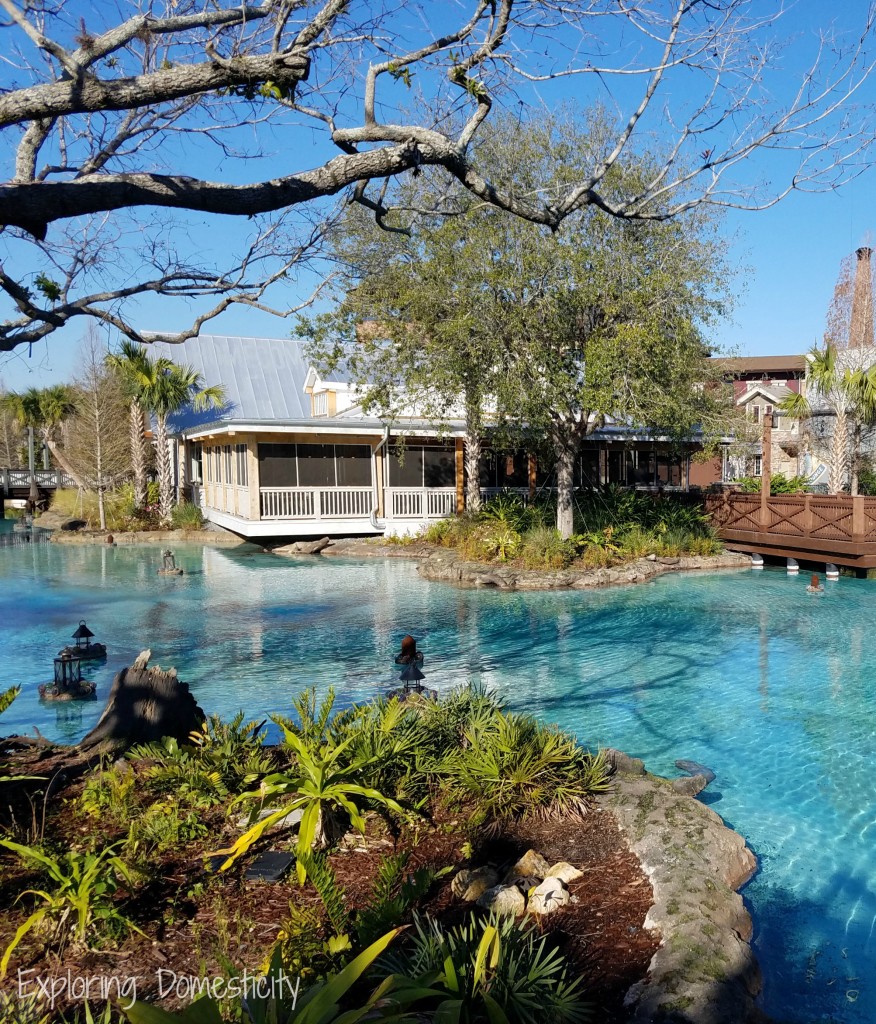 9. BRING A STROLLER IF YOU HAVE LITTLE ONES
If you've got little ones and or people with special needs in your party, you might want to check out Mary's advice on where to rent a stroller for Disney World.
Going with toddlers?
Kristin has some must-dos for you HERE
Jen also has tips for the best rides and parks for toddlers HERE
10. KEEP IT TIGHT
As a large group and especially if you've got children with you, it can be hard to keep a hold on everyone. Think of yourselves as a group and pick a point to meet at if anyone should get lost. For children, Carissa recommends wearing something that stands out and practicing beforehand what to do if someone gets lost.
Things to do
The list is long but I notice that for people giving their best mom tips for Disney World, the fireworks, parades and character meet & greets are always mentioned.
Sonja & Jane said:
11. WATCH THE FIREWORKS
If it's scheduled on the day of your visit, you gotta catch the full 18 minute long Happily Ever After fireworks. They are nothing short of spectacular! The light show on the castle is utterly breathtaking…In my opinion, the views are stunning no matter where you're standing so don't stress if you'd rather take in more rides than waiting for the show to start.

Sonja & Jane from Sustain My Craft Habit
12. WATCH THE PARADE
No one does parades better than Disney World and trust me when I say, you won't be disappointed!

Sonja & Jane from Sustain My Craft Habit
Find information on height requirements for Disney World attractions HERE (via Cindy).
13. DISNEY CHARACTER MEET & GREETS
Get some tips straight from April at Pixie Dust Savings. Her guide includes collecting autographs and joining dance parties.
Jen also provides a thorough guide HERE on how to navigate Disney World character meet & greets.
14. MINI GOLF
You may not think of this as something to do at Disney World but Gena recommends it for when you have a late flight. It's a great way to kill time.
Tiffany has an amazing guide on which attractions to visit to avoid being caught out in the rain! Be sure to check that out – it rains fairly frequently in Orlando. She also has some recommendations here on which activities are NOT worth a Fastpass.
Food
15. GET YOUR OWN GROCERIES
If you'd like to save money and you think you can handle it for not too large a group, you can sort out getting your own food! Marcie talks you through your grocery options at Disney World HERE.
16. RESTAURANT RECOMMENDATIONS
Stacey's of the opinion that Ohana is the best "all-round restaurant".
…it has everything you could possibly want in a dining experience! Delicious food…a gorgeous view of Seven Seas Lagoon and the Magic Kingdom, authentic Hawaiian theming, and fun entertainment!

Stacey from Stacey Homemaker
She has a very good guide on the different types of food you can find at Disney World in her list of 12 Best Restaurants HERE.
Dinner
Sonja & Jane said:
…if you're looking for dinner ideas, might I recommend Pecos Bill…yummm

Sonja & Jane from Sustain My Craft Habit
Tiffany advises against buying the dining plan for children under 3 :
Kids under 3 can have their own plate at no cost at many of the restaurants, and all the other locations will allow them to eat off of your plate. Since kids under three don't need a park ticket, they also won't be eligible for the dining plan.

Tiffany from Living Sweet Moments
It can be tough to get reservations to the most popular restaurants at Disney World. Stacey suggests:
Book as soon as your 180-day vacation window opens up for the best selection. You can book online or on the My Disney Experience app at 6 AM EST or at 7 AM EST by calling (407) WDW-DINE…If you don't get the reservations that you want right away keep checking back every few days, people cancel reservations all the time.

Stacey from Stacey Homemaker
17. FULLY UTILIZE YOUR SNACK CREDITS
Tiffany says:
Snack credits are one of the most wasted credits on the Disney Dining Plan packages. Since they can be taken with you, and used in so many places, it's better to use them early and carry your snacks around with you in the park.

Tiffany from Living Sweet Moments
18. EXPERIENCE CHARACTER DINING
Kristin recommends character dining as a must-do, particularly with a baby.
The best thing we decided to do was get reservations for a character dinner at Chef Mickey's at the Contemporary Resort. At one year old, the classic Disney characters are the way to go! Mickey Mouse Clubhouse is so popular at that age.

Kristin at Exploring Domesticity
Carrie has a list of the best character dining spots HERE.
Kim & Carrie recommend their top 10 themed restaurants at Disney World with quick service HERE.
Crystal also lists her top 5 character dining experiences at Disney World HERE.
On a gluten-free diet?
Sharon has some tips on how to eat gluten-free at Disney World
Crystal also lists her top 5 Gluten Free restaurants at Disney World HERE
Freebies
19. According to Mary, there are quite a few free activities for you to take advantage of at Disney World!
20. Visiting Disney World at Christmas? Here are some suggestions from Stacey on what you can get up to for FREE at Christmas time!
Miscellaneous mom tips for Disney World
21. Here's some information from Stacie on what you can find at the Star Wars Galaxy's Edge on a night time visit
22. Stacie also has a pretty thorough guide to the Kilimanjaro Safaris here
23. Interested in staying at a Disney Vacation Club? Lauren at Midget Momma provides great tips on how to achieve that.
24. Is your aim to be Earth-friendly? You'll find Kristen's Zero Waste Disney vacay tips useful.
Last but not least, saying goodbye…
25. Kim & Carrie offer tips on what to do on your final day at Disney World. Including settling your bill the night before you leave.
What are your best mom tips for Disney World? What would you do differently at Disney World to make it an easier and more enjoyable trip?
Please follow and like us: