Black maternal mortality is a topic that has to be continuously highlighted and reviewed. Being a black woman in any part of the world presents unique struggles depending on where you are and what your goals are. If you are black woman who has lived in more than one part of the world, you will note that reactions to your blackness are always different.
On the rare occasion, you may even get positive reactions which cause you to wonder whether the true reasons behind those positive reactions may be suspicious. It can be exhausting. One of the times when you do not want to have the colour of your skin be the motivator of reactions towards you is during your interactions with healthcare professionals while pregnant. Black maternal mortality rates suggest that there are deeply ingrained biases against black women that affect the way we are treated while pregnant.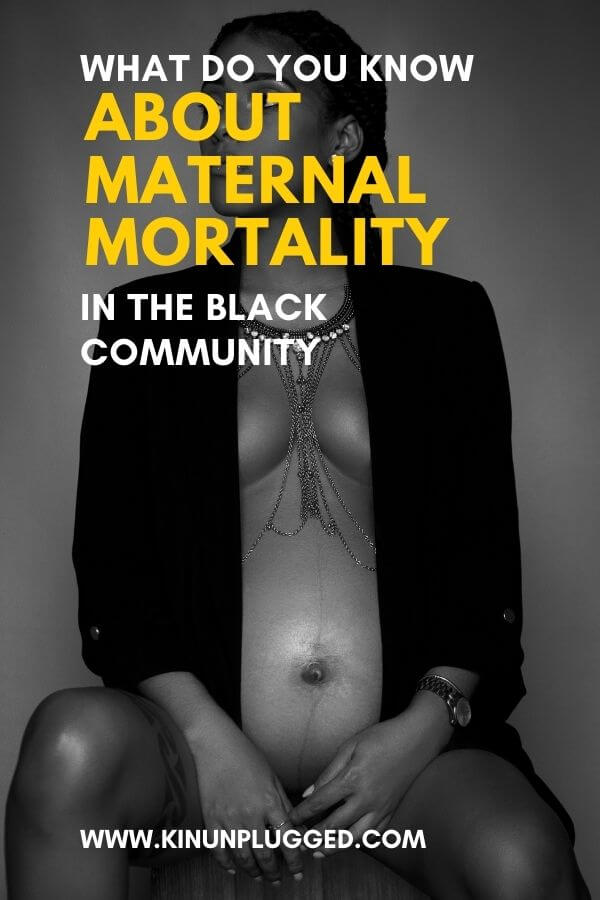 The statistics on black maternal mortality rates
As a black woman with a daughter, the fact that the black maternal mortality rates are so high is extremely scary to me. I also find it interesting that some people put it down to propaganda when the black maternal health statistics are many people's reality. People have lost mothers, sisters, daughters and friends to the consequences of lack of care throughout the maternity and postpartum period. To a growing number of grieving families, maternal mortality is a horrible, lived experience and not just a matter of statistics.
A 2018 report on black women's maternal health found that black women in the United States are three to four times more likely to die from pregnancy-related causes than their white counterparts. It also found no link between this higher risk of death for black women and their socio-economic status. 
Those findings cement the fact that regardless of the kind of care that a pregnant black woman can afford, she is still likely to die from pregnancy-related causes purely based on the colour of her skin.
Similarly, in the U.K., black women are four times more likely to die while pregnant or giving birth than white women. MBRRACE-UK's 2019 report found that between 2017 and 2019, 209 women had died while pregnant or up to six weeks after delivering their babies. The causes were pregnancy-related and ranged from heart disease to mental health problems to blood clots. The same report gave the risk of black women dying during pregnancy or up to six weeks postpartum as even higher at more than five times than white women. 
Further, the National Institutes of Health found that severe maternal morbidity (SMM) rates have almost doubled over the last decade and "and the incidence of SMM was 166% higher for Black women than White women from 2012 to 2015."
Those are scary figures.
There is no better time to consider the importance of black maternal mortality than now.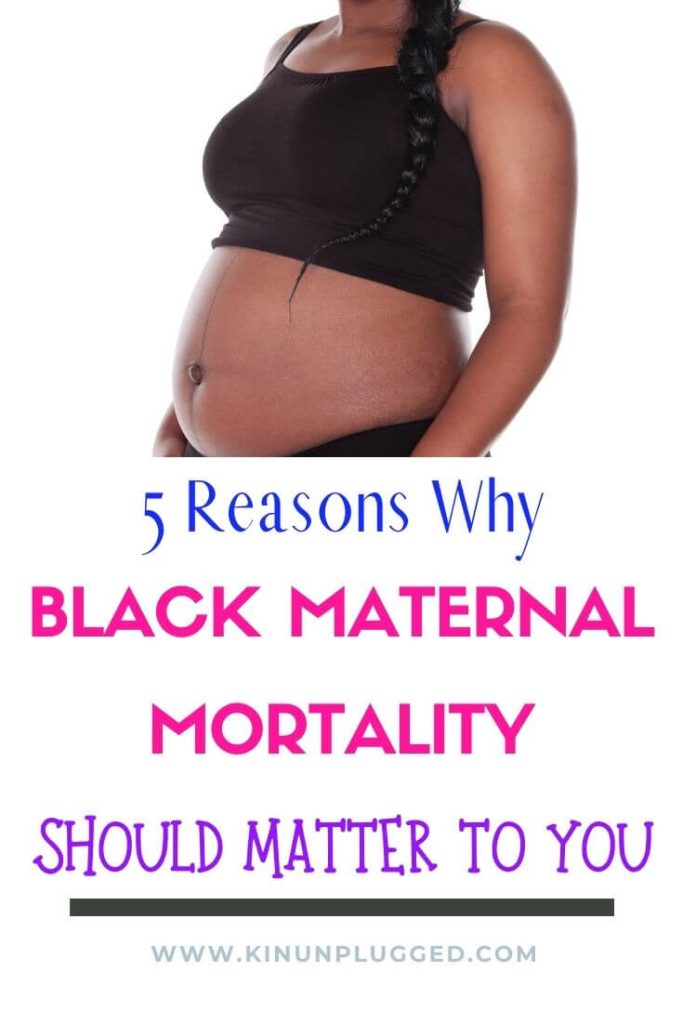 5 reasons why black maternal mortality is so important
Black maternal mortality is so important because it forces us to confront the following:
Why it would seem that black mothers are not able to accurately assess whether their maternity needs are not being met
The links (if any) between social status and maternal mortality across races
Racial and ethnic disparities in quality of maternal healthcare received within individual countries
The specific healthcare needs of black women separate from white women – particularly during pregnancy and in the postpartum period
Systemic bias is real and has to be tackled from both individual and structural levels.
What causes black maternal mortality?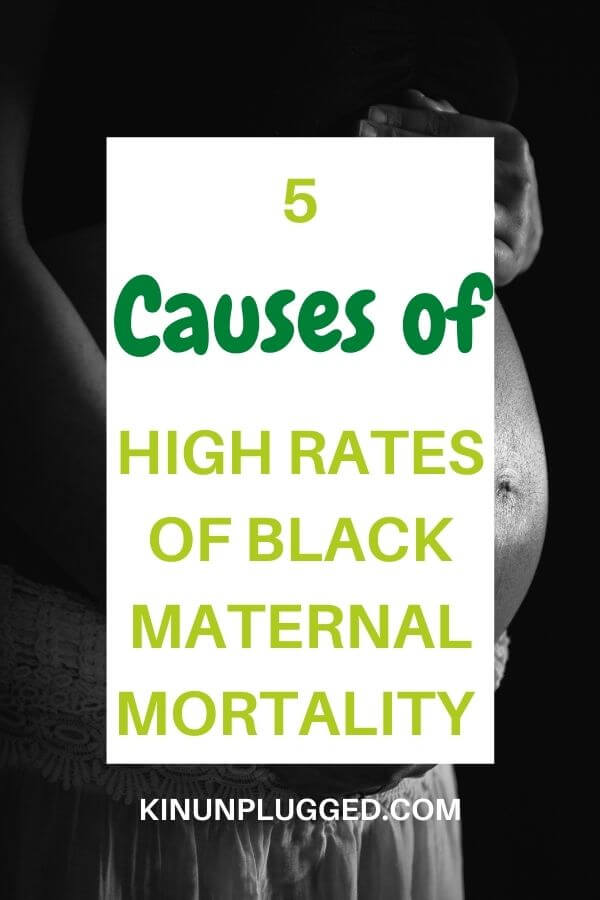 As mentioned, the causes of maternal death are varied with heart disease and stroke being the leading ones. They include hemorrhaging, pregnancy-induced hypertension and embolisms. All these fall under various categories of causes of maternal mortality, however. 
Five major factors contributing to increased African American and global black maternal mortality are:
Genetic high risk factors. Unfortunately, there is a fairly long list of diseases that black women are predisposed to as compared to white women. From fibroids to heart disease. In general, pregnancy does put a lot of stress on a woman's body and it is during pregnancy that a lot of diseases that a black woman is predisposed to could start to affect her for the first time.
Income inequalities. Income inequality is "the degree of unequal distribution of income within a population". Across the whole of the United States, increased income inequality is associated with racial inequality in pregnancy-related mortality among black women. Women are generally more vulnerable to the consequences of income inequalities. 
Devaluation of the black woman's body. Structural racism towards black women comes in part from the legacy of slavery. Seeing black bodies as commodities rather than as human and in need of love, attention and care has affected the amount of value that the black woman's body has in society.
Neighbourhood deprivation. Mothers in the most deprived areas of the US have a 120% higher risk of maternal mortality than those who live in more affluent areas. This could be attributed to a lack of access to adequate healthcare facilities close enough to the deprived neighbourhoods. Research has found cautious links between maternal psychosocial distress and neighbourhood deprivation.
The "strong black woman" perception. Historically, black women worldwide are seen as being able to handle a lot physically. That perception has been imposed upon and, over the years, absorbed by black women so that they consciously or unconsciously present a stoic front. This front does not encourage them to freely voice things that may be seen as weaknesses to others. This includes the extent of physical symptoms of illness and especially the amount of pain they are enduring both physically and mentally. 
Read: My Experience with Postpartum Anxiety
How to reduce black maternal mortality
Here are 6 ways to tackle the reduction of black maternal mortality. Please note that these are by no means the only ways. There are many more steps that can and should be taken that are not mentioned here.
Well-funded community outreach programs. A great impact can be made at the community level of society. Communities must be better educated on the current statistics of maternal mortality for black women and how change can be made. It is the individuals in communities who will ensure they are heard by advocating for change. In addition, community outreach programs can be created to access pregnant women and mothers postpartum and they will have a better idea of the needs of mothers as they will have close proximity to them. Importantly though, it is important that these community outreach programs are well-funded as it is the only way they will be able to keep up the good work.
Collaboration between the different people involved with patient care. The duration of a woman's pregnancy in some countries may find them seeing different faces each time they have an antenatal and/or postnatal appointment. This is not at all reassuring for the mother on a personal or human level but it is also not safe particularly if efficient medical notes are not being kept. All individuals involved in the antenatal care of one woman need to be able to communicate easily with each other and this cannot be the case if there are too many different people involved in her care.
Media focus on causes of disparities and possible solutions. The media is great at taking up issues and running with them for a period of time. The issue of black mortality rates should become a consistent hot issue taken up by the media globally. This will help to keep it at the forefront of individuals' minds. It will also ensure that the structures responsible for making change where it matters continuously feel the pressure to do so.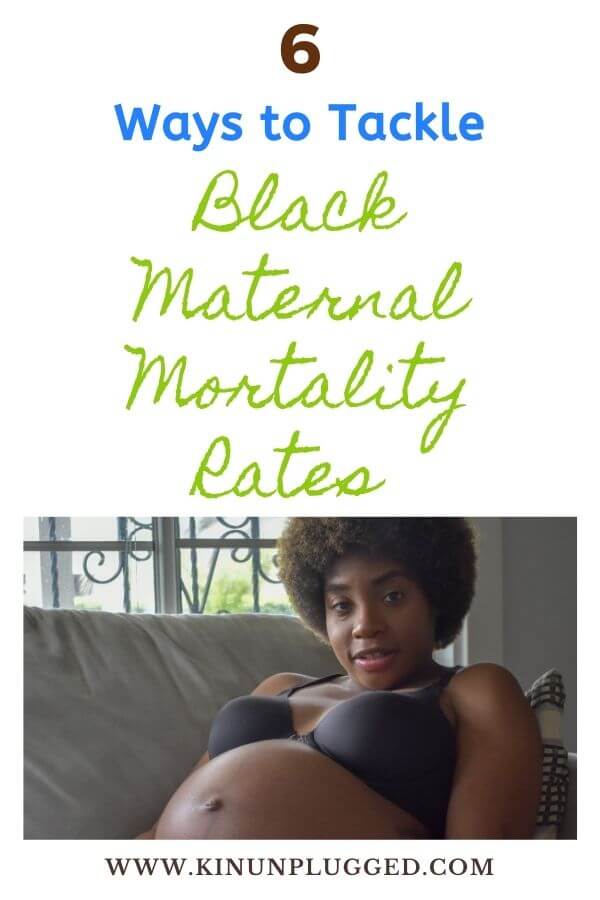 Increased postpartum support. The World Health Organisation (WHO) recommends at least four contacts with healthcare providers in the first six weeks after birth however some women (in the US, for example) do not even have one contact. 52% of pregnancy-related deaths happen after delivery or postpartum. According  to the Commonwealth Fund's statistics, 19% of maternal deaths occur 1-6 days after delivery and 21% happens 1-6 weeks after. Excessive bleeding and cardiomyopathy are examples of the conditions that could be caught quickly enough if there is adequate medical support postpartum.
Greater numbers of maternity carers, especially midwives. Following on from the previous point, it would be useful to increase the numbers of maternity care providers available to black women postpartum. More carers available to both pregnant women and mothers in the postpartum stage will prevent the problem of problems going unnoticed before it is too late.
Guaranteed paid maternity leave. Mothers are not guaranteed paid maternity leave worldwide. The lack of this assurance or provision means that mothers rush back to work sometimes at the detriment of not just their children's health but also theirs. Without being able to rest and fully recover from the task of childbirth, some women are forced to return potentially stressful workplaces and work environments which has a detrimental effect on their physical and mental health. The United States is the prime example of a high income country that does not guarantee all its mothers paid maternity leave.
As much as any other race, black mothers deserve to enjoy healthy pregnancies, births and postpartum period. To facilitate this, there must be more consciousness of the gaps in the global healthcare systems that allow black women to be overlooked and go unheard.
Please follow and like us: