In this post, you will learn how to fry plantains. Or, at least, I will show you how to make fried plantains my way. They were a staple in my home growing up and although they are less easily accessible to me now, we still have them fairly frequently.
What are plantains?
Plantains quickly become a favourite for people who have never tried them before. They are eaten in much the same way that potatoes or sweet potatoes are eaten.
They look like large bananas. They contain more starch and so are better suited to being cooked than eaten raw. 
They are green when unripe and yellow when ripe. Plantains can be eaten both ripe and unripe.
For this recipe, I only use ripe plantains.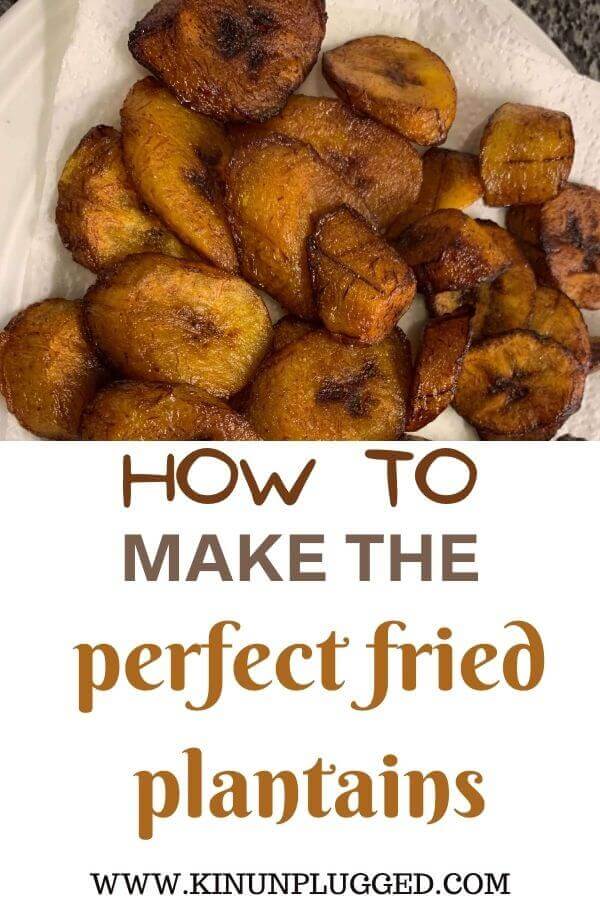 Plantains in my home
My toddler loves her fried plantain. It was ingrained in her DNA really. She has two West African parents. She did not really have a choice in the matter. She will have it at any time of the day – for breakfast, lunch, supper or as a snack in between any of those meals. In fact, she will have nothing but fried plantain (and chocolate) all day long if she has her way.
They are, in my view, the ideal toddler snack. Fortunately, they work for the whole family too.
If you have never fried plantains before though, it might seem like a challenge. Indeed, there are many people who love fried plantains but find frying it to be a daunting task.
RELATED: Unique & Comfortable foods for teething toddlers
How ripe should plantains be for frying?
This really depends on your taste. My husband, for example, prefers it when they are not too ripe. For me, on the other hand, the riper the better because that means that when they are fried, the plantains will be extremely soft. Also, the riper plantains are, the sweeter they are. If you do not want your fried ripe plantains too sweet, you should fry them before they have over-ripened.
How do you cut plantains to fry?
Any way you like. If you are unsure, you can use thickness as a guide. 
As an approximation, I like to cut my plantains so that they are about 2cm thick. Sometimes I'll make them even slightly thinner. That way the edges become just a bit crispy when fried. I also slice them in medium to small diagonal shapes. My mum likes to cut them in longer diagonal shapes and thicker as well because this means less time spent frying.
They can also be cut lengthwise down the middle into two halves and each half sliced into two.
Remember that the thicker the slices are, the more time each will need to effectively cook.
Should you soak plantains before frying?
No. Not unless you want fried plantains that taste half done. Soaking plantain means that they become wet and possibly soggy, depending on how ripe the plantains are. If they are very ripe, the soaked plantain will fry quickly on the outside and is likely to burn if not watched closely.
Soaking the plantains before frying means that the oil will be splashing on you excessively as you fry. 
How to cook plantains
Once your plantains are sliced up, they are ready for cooking. Pre-toddler days, I made sure to always add a sprinkle of salt over my plantain pieces before frying them. However, with my toddler eating plantain with us, I do not add any salt. Interestingly, it tastes just as good without salt!
Some people also prefer to put salt in their oil instead of directly on the plantain. It makes no difference to the taste.
I know that others also like to salt their fried sweet plantains after frying them. I have never tried this before as I imagine this might interfere with the taste of the plantain. I imagine that the salt would overtake the taste of the plantain itself.
I use vegetable oil to not just line the base of my frying pan but to also fill the frying pan up just enough to cover the plantains once they are lying in the pan. Too little oil will most likely lead to the plantains burning quickly without the insides cooking thoroughly.
Put the oil on high heat until you are sure that it is hot. Lower it to medium heat and then put your plantain pieces in. Make sure that they are spread evenly on the base of the pan. There should not be any pieces on top of each other.
When they have started to brown, you might want to quickly flip them over and fry them on the other side. I wait a bit longer as I like them more brown than yellow. The first batch usually fries in about 8 minutes total – five minutes on one side and three on the other side.
Careful if you are frying several batches as after the first batch, the pieces will fry a lot faster. You have to keep a watchful eye on them because they will burn easily.
When they are as brown as you like, place them either on a tissue on a flat plate to drain or in a sieve lined with tissue. You need a thick, highly absorbent tissue for this so that it absorbs the oil and does not stick to your plantain. If you do not have any, simply drain it in an unlined sieve.
Let cool for about five minutes before serving. 
Disclaimer: At no additional cost to you, I may get a small commission for purchases made through links within this page.
What goes with fried plantains?
In my mind (and in my mouth), fried plantains go with any and every rice dish as well as every stew dish. My personal favourite way to eat fried plantains is with a beans stew, a sprinkle of gari over the beans and a spoonful of hot pepper (shito) on the side.
How many calories are there in fried plantain?
Fried ripe plantains contain 343.1 calories per plantain according to eatthismuch.com. 5 slices contain 120 calories but the slice sizes referred to here are uncertain.
Have you been considering making some fried plantain for your family?
Please follow and like us: