Parenting, as we know it, is mind-blowing hard. Juggling between work and kids for any working mom feels like a climb up Mount Fuji. Except you don't get to climb down. Working moms often find themselves stressed out and no longer having that energy left to play board games with their families.
The day of a working mom involves spending more than half the day working, rushing home to ferry her 3 boys to swim training, and enrichment classes respectively, supervising their homework, preparing dinner, washing the dishes and doing the laundry, before tugging the boys to bed.
Many working moms know that their schedules are all over the place, but most of them do not want to miss out on their children's milestones. Some working moms have no choice. Some feel that they make better caregivers, and others choose to take on more of the child care responsibilities than their spouses.
No matter your reason, be sure that you are not the only stressed-out working mom.
Sometimes this stress has harmful effects on the marriage. She takes it out on her toddler, on her spouse, causing potential conflicts and lower productivity rates at work. Things are going south for her and she feels she is no longer capable of doing anything right. 
As a working mom managing stress levels, here are 5 simple tips that you can adopt in your everyday life.
Tip #1: Plan Ahead
Every mom has that moment. Baby ate something his tummy disagreed with and he chose the most perfect timing of puking it all over himself on the way to daycare. It will be a lifesaver if there is always an extra set of clothes and diapers in the car to be prepared for such accidents.
Ever since I became a mom, I've learned the importance of having a planner. It does not have to be a fanciful one with bling and feathers, nor does it have to be creatively doodled on. As long as you know what's next on the schedule, that's all you need.
A planner is like a helping hand. Literally. Especially when you are late for that meeting, and your child is late for her violin class, you are bound to forget dinner with your parents. That's how awesome having a planner is. And don't forget to place it where it's visible. I like to paste my daily planner at the fridge door, where half of the time I'm always there looking for snacks. You can do a weekly planner, a monthly planner, whichever works best for you.
Tip #2: Get Help and Delegate
Every mom is a supermom, and even superheroes have a team of other superheroes. Don't pile more food on your overflowing plate, otherwise, things will be more disastrous if you fall ill.
Approach your family if your nanny bails out at the last minute and you are not able to excuse yourself from work. If you are one of the lucky working moms whose spouse is available to help around the house and the kids, do not hesitate to share the responsibilities. He can dress up the children, ferry them to their classes, put the laundry to wash, etc. A study conducted by Adam Galovan found out that the more husbands are involved with household chores and being with the children, the higher the marital satisfaction.
Another method is to get the kids to involve with the chores. You will be surprised how much fun you will be having, as long as you are not trying to control the situations. By doing chores together, you are not only improving your relationship with your children, but they are also learning family values.
Tip #3: Be Flexible
Some routines work while others don't. It is important to reevaluate and change your priorities according to what works best for your lifestyle and circumstances.
It is not a sin if you have to make some changes to what is on your planner. You don't have to feel guilty if you have to re-schedule that dinner date because you forgot it is the family's movie night. Change playtime at the playground to snacks time with your son at the ice-cream shop if you need an excuse for that cup of caffeine.
If your workload is eating into your family time, ask your employer for four days instead of five. Sure, that might incur a pay cut, but it is worth it to have that work-life balance.
Tip #4: Have Time Out From Work
It is important to have quiet time away from phones and emails. Every time that phone rings, you know nothing good comes out of the call 99% of the time. Leave the laptop in the office, or put the phone to silent mode when you are spending quality time with your children. Use this time off to recharge your batteries, and get back to those texts or emails (if they are that important) after dinner.
Resist the urge to reply to emails and texts before bed. It will affect your sleep and reduce productivity for the next day. Unless you are waiting for the confirmation of being on the cover of VOGUE, nothing is more important than having sufficient sleep.
Tip #5: You are Important!
Take that power nap if you have to! Don't feel that you are weak if you take a wink. It is perfectly normal for our bodies to run out of energy and need to be recharged to be productive again. Taking good care of your body and your mind will give you a boost to your self-awareness and self-confidence. The better you feel about yourself, the better decisions you can make. The clearer your mind is to set your priorities too.If you are one of those fit moms, workout regimes are good 'me-time' breaks. A trip to the gym to break a sweat, yoga, pilates, kickboxing is one of the great work out exercises. Endorphins responsible for positive feelings are produced when you exercise, it improves your mental health and keeps you happy.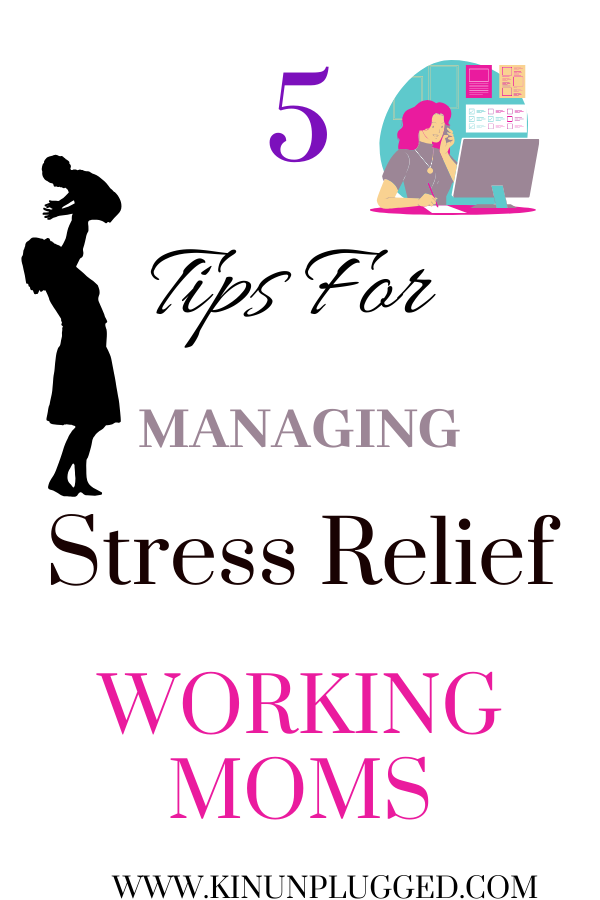 A short conclusion for working moms
As working moms, we will never have stress-free days, but we can learn to manage our stress. Start by listening to your body. When you feel that you can no longer function, call for help (Tip #2). Take as much coffee break as you need, walk away when you feel like you are about to say something nasty to your child. All of us have our bad days, and it is ok. Accept that it is part of your parenting journey and things will get better with an open mind.
Leave your comment below to share with us what are your other secrets to managing your stress. Let's all help each other to become better moms!
Author's bio
Juliana Lee is the writer behind Millennial Mom At Work, a mom to 3 highly energized boys, a dog, and a cat. She enjoys writing about parenting tips and personal growth to empower parents for an enjoyable and fulfilling parenting journey. Besides hoping for world peace, she believes that everyone needs to learn to be confident, optimistic, and be proud of their beauty to be happy.
Please follow and like us: