Babies don't need much. If you could only buy one item for your baby…just one…I'd say let it be a tube of Bepanthen nappy cream. I couldn't rave about it enough. Yes, let your child run naked and hungry as long as he/she is well moisturized in some Bepanthen. It's the only thing your baby will really need 🙂 On a serious note, I'll always list that before anything else. And then coconut oil.
I already have my list of baby necessities up and it's the list of every item I purchased before baby was born. However, I was interested to see what other moms consider to be their absolute must-haves – the things their babies really needed. Here are some of the best baby necessities I found upon searching the internet for the most essential things a baby needs. Some of them might surprise you!
Disclaimer: I may get a small commission for purchases made through links within this page.
11 Things your baby really needs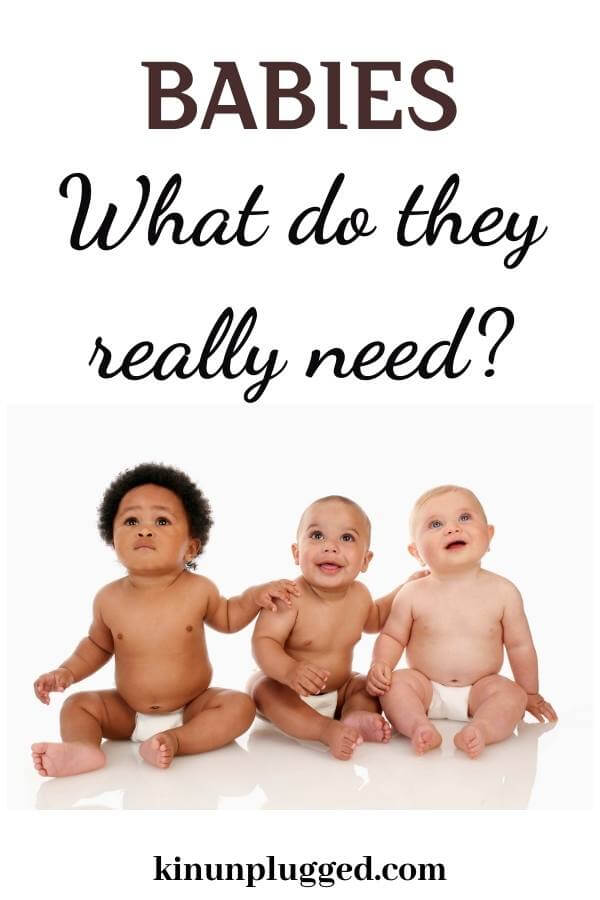 Baby bouncer chair
I can imagine that if you've got a baby who can be calmed or even lulled to sleep by consistent movement, then a good bouncer will work wonders for you. It will give you the chance to take a break long enough to nip to the loo, grab a bite or just relax. (anyreasonlife.com)
Lorenaylennox.com specifically recommends the Fisher Price RocknPlay to help a baby with reflux.
Nursing pads
These I can absolutely relate to as I only stopped using them recently after Baby E turned 1. Waking up with your clothes soaked isn't great and it's especially annoying if you think of it as a waste of milk! Wearing pads helps to stem the flow and saves you embarrassment if you're leaking in public. (familyfocusblog.com)
About six months in, I discovered reusable cotton nursing pads here in Germany and stuck with those. If you'd prefer to go the sustainable route, they're the way forward. Buy about five pairs and they're good for your entire nursing journey!
Sound machine
Unlike my little girl, I still find a nice noise a great way to fall asleep even now. Like a bouncer, I can see why if it's their thing, it would be good way to get a break and teach a baby to self-soothe. (Thepostpartumparty.com)
BeauGen pumping cushions for breast pumps
This was new to me! One of the must-have items that surprised but completely understandable if you're pumping. Especially if you're pumping for multiple babies! (fortbirthday.com)
Waterproof pads
For cribs, beds and even pillows. Gale of Imaginative Homeschool found these invaluable from potty training to pillow protection during a bout of the stomach flu! Aren't moms just so ingenious?

A baby wrap or carrier
This was extremely useful to me for those times when baby wanted to be held and only by me. She could be on me and I'd still have my hands free to do tasks around the house. (fourtolove.com)
Portable potty
So far, we've carried baby's toilet seat trainer thingy with us everywhere but I can see how a portable potty with a carry handle like this might be more convenient.

A nursing stool
Much like the boppy, this is all about finding your most comfortable nursing position. Especially when you're feeding on demand and nursing around the clock. (breastfeedingconfidential.com)
An electric nail file
Now I'm going to have to look for one. I never knew it existed. Anything to make baby's nail care less of a hassle. It feels like her nails are fully grown again 24 hours after I've tended to them! This file leaves the edges of their nails smooth so you don't have to worry about scratches even right after you've cut them. (highchairchronicles.com)
Now you know what some moms can't live without. Looks a bit different from your average baby registry list doesn't it? Do some rigorous research into the larger items such as bouncers to check for issues of safety, for example, before purchase. Also, keep in mind that not all these items will be ones that yourself and/or baby will actually need.
What did your baby really need? Drop it below and I'll add it to the list.
Please follow and like us: