Reading Time:
5
minutes
By the time my little girl was eighteen months old, she'd flown six times. There was a stark difference in our experiences flying with her each time and I've got to say, when she hit one year old, it became a whole lot easier! That might have been because of just how much better prepared I was each time. Flying with a one year old baby can be stressful but it is absolutely manageable if you're fully prepared. 
Read>>> Our lives abroad in Germany (Differences from the U.K.)
Here are a few ways to make it work. To start with, I'm going to pick out seven of the most vital things to pack for the flight.
7 Essential things to have on hand for the flight
1. Double diapers & Baby wipes 
This really goes without saying. Yes, even if by some miracle your little one is potty trained, you need these anyway! You can never have enough available and within easy reach. The wipes will come handy not just for diapers but for any other times when they need a quick wipe down. Take double the amount of diapers and wipes that you think you'd ordinarily use just in case of flight delays.
2. Favourite shows 
If you're not averse to it, some screen time will absolutely provide you with some peace and quiet! Download their favourites in advance and get some baby-friendly earphones so that you're not disturbing any of the other passengers. 
3. Change of clothes
Spilled drinks, diaper leaks, food stains. These are any number of the other unforeseen events that toddlers seem to manufacture so effortlessly could occur. You'll need to have a change of comfortable and easily removable clothes to hand. Even if you don't mind them looking a mess, if they feel uncomfortable from wet clothes, for example, their crying and/or fussiness will make you pay for it! 
RELATED>>>Baby Items to Buy Second-Hand
4. Antibacterial hand wipes
If these last few months have taught us anything, it's that being a little bit OCD is not a bad thing. Do a bit of research into how perfect of a breeding place flights are for germs and you'll want to get a pack of anti-bacterial wipes. You can wipe down the seats in front, the arm rest and anywhere else that your little one may be touching. You know their little fingers always end up right in their eyes or mouth!
5. Food & Snacks
These are to keep them happy by keeping them full. Sometimes healthy snacking is all they need to stave off hunger and, if they like to feed themselves, keep them occupied as well.
6. Brand new toys
This is probably my biggest tip. I got her a couple of new toys just for our last flight. When she became very restless, I handed one of them over and she busied herself getting to grips with it. When it's something different from what they're used to, they have something new to learn.
7. First Aid Kit
Some items such as little scissors will, of course, not be allowed in your carry on or diaper bag but apart from that, everything else is essential. We hope that you won't need anything from it, but it's wise to have it on hand. At the very least, have some baby paracetamol, wound spray, any prescribed anti-allergy meds and plasters available.
Then there are six equally important factors to consider for flying with a 1 year old as well.
6 Vital Things to consider before flying with a one year old
1. Priority boarding for people with children
It can be easy to miss so you have to look out for the signs pointing to priority boarding for families or people with children. Take a second to scan it to make sure that it really is moving as swiftly as it should be before you join it though. On the rare occasion, it may serve you better to stay in the regular boarding queues.
2. Try to travel at night
This is to ensure that your child is travelling when they're used to sleeping for large chunks of time. It also buys you a bit of time to relax and enjoy the flight and spend less time trying to distract them. If a night time flight is not an option, consider your child's usual nap times and see if you can find a matching flight time.
3. Cold and flu symptoms
If you find that your little one is showing signs of illness before your trip, you'll want to get them checked by a doctor immediately. Make sure it's alright for them to fly and get any medication you need to help them be comfortable and heal quickly. Cold & flu symptoms are especially uncomfortable for babies as you know because they can't blow their noses but also because it can leave their ears blocked. Blocked ears make for an uncomfortable flight for babies who are already particularly affected by changes in cabin pressure. The food and snacks you've got packed should help to prevent too much pressure discomfort during takeoff and landing. Just keep their jaws moving during those times!
4. Vaccinations
As much as possible, try not to schedule any vaccinations for right after you fly. Especially if your baby or toddler has suffered some sort of reaction to previous vaccinations. I'd advise that you leave at least a week between vaccination and flight.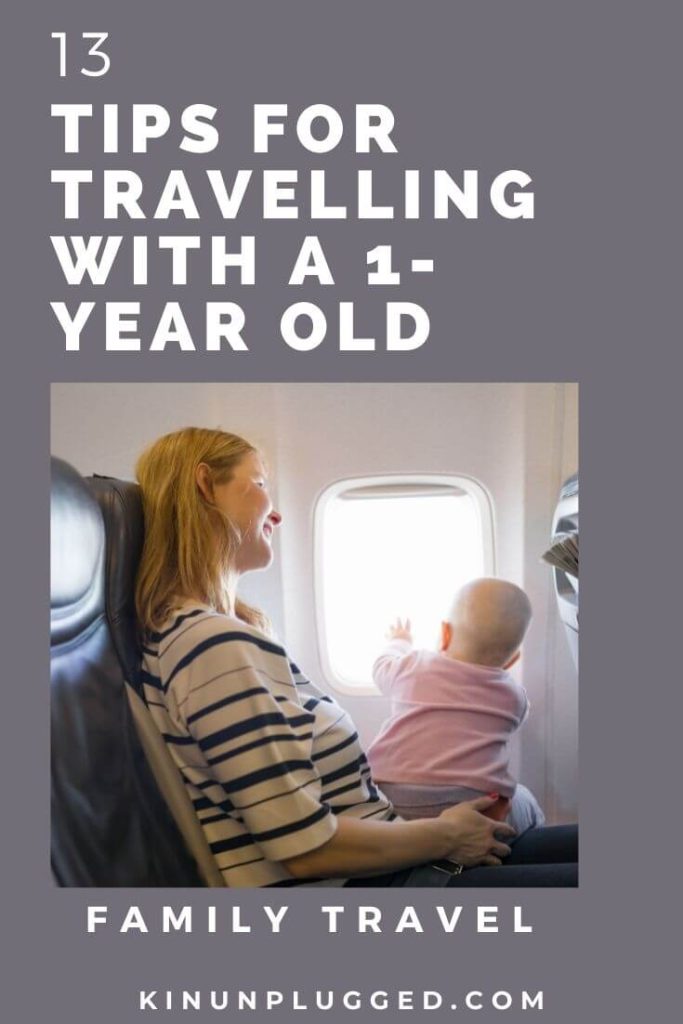 5. Sufficient exercise while on board
Just like you should be doing for yourself, make sure your little ones are active on the flight when they're not asleep. This applies particularly on long haul flights. Make sure they're moving around enough on board. Particularly if they have any pre-existing conditions that put them at risk of Deep Vein Thrombosis (DVT). It also makes flying a bit more fun for them!
6. Fellow passengers
If your baby or toddler cries, you will get some funny or downright annoyed looks. It will happen so expect it. On the flip side, you'll also get some sympathetic and/or pitying looks. Focus on those because they'll remind you that you're neither the first nor the last parent to fly with a baby or toddler and a little crying never killed anyone!
There you have it! This guide is a way to steel yourself for the experience that is flying with a one year old. It really is an experience, long or short haul. You may find that it has many good and bad moments but enjoy it all!
Have you flown with a one year old baby before? How was your experience? Do you have any additional tips for flying with a one year old?
Please follow and like us: