My little girl is almost 2! She acts 12 sometimes but she is really just 1 and I can hardly believe it. I know I want to give her a gift that is practical for her at her age. I want to give her something that will be suitable for her now but also that will be useful for her in the next year. I looked into the best gifts for a 2 year old girl.
There were so many options of gifts for girls in general but when you are considering what to buy a 2 year old for her birthday, I found that it was not as easy as I had expected.
That is the thing about developmental differences in children, I think. A gift marked as age-appropriate for a 2 year old may not be right for your 2 year old just yet. It could also be that the best educational toys for 2-3 year olds are not the best educational toys for your particular 2 year old as they've far advanced on from that typical level of development already.
Disclaimer: At no additional cost to you, I may get a small commission for purchases made through links within this page.
This is one of those gifts for 2 year old girls that combines honing a few different skills from hand-eye coordination to fine motor skills. While targeting fish to pick up, they also get to go through their alphabets and numbers.
2. Lacing toys for toddlers
In the same way as for the magnetic fishing board above, this lacing toy encourages hand-eye coordination improvement and enhances your child's fine motor skills. It helps to sturdy their hands which is important for when they start to write.
3. Stacking Peg Board Set
Wooden stacking peg boards are safe enough for a gift for a 2 year old. Many people recognize it as a toy mostly used in montessori settings. It's one of the best educational toys for 2-3 year olds because it has a wide range of possible uses that your toddler can discover all on her own if you leave her to it!
She can stack, make patterns with them or lace them in the same way as she would the lacing toy above. See this post for 12 different ways to use a stacking peg board set.
4. Magnetic Drawing Board for toddlers
Give your toddler a creative outlet with this board. They can go wild with it, drawing shapes, writing letters and numbers. This magnetic drawing board for toddlers is an innovative way to get your toddler used to using a writing instrument.
5. Melissa & Doug Zoo Animals Sound Puzzle
This is a fun twist to a traditional animals puzzle gift for 2 year old girls. Your toddler gets to enjoy hearing the animal sounds.
6. Little Tikes 2 in 1 Food Truck
This Little Tikes toy food truck is a fun toy for your 2 year old either on her own or with friends and siblings. It's great for most rooms in the house as it does not take up too much indoor space.
7. Water doodle mat
Here we have yet another mess-free way for your toddler to practice her writing. My daughter has had the Aquadoodle mat since she turned 1. It was a gift from her cousins and probably the one thing she genuinely enjoys using everyday.
Over the last year, she's gone from scribbling to identifying the numbers and alphabets on the edges of the mat to writing her numbers fairly clearly. All without any damage to the walls! She'll absolutely be getting far more use out of it this year. It's such a good gift idea.
8. Children's Costume with tutu
If you've got a girly girl, she'll love this. Allow her imagination to run wild with any variation of costume. Bonus points if it's a princess or fairy one that comes with a tutu! 2 year old girls love their toddler princess dress up or role play time. Princess gifts for 2 year olds are always a hit.
This kind of imaginative play is healthy for little girls but also fun for you to watch as a parent as it really shows their personalities.
You may also like: Preparing for your baby's cake smash photoshoot
9. Radio Flyer Scoot to Scooter
This is good because your toddler gets to use it for a couple of years. More even, depending on their height.
10. Wooden Xylophone
You'll find brightly colored wooden xylophones in many brands on Amazon. This xylophone for beginners is a fun way to introduce to your toddler to music-making. It's colourful and bright but is also excellent for hand-eye coordination.
11. Cord Free Dyson Toy Vacuum Cleaner
Your almost-2 year old no doubt loves vacuum time and may even try to do the work for you. Get her this to help her feel more involved in household activities and increase her sense of independence. This toy vacuum cleaner is realistic and even has strong enough suction to vacuum up pieces of paper.
12. Mega Blocks
How do building blocks help a child's development? Mega Blocks as a gift for your 2-year old girl will help with both her spatial and motor skills.
13. Electronic Piano with Microphone
This is yet another fun musical adventure gift for your little 2 year old girl. I feel like gifts for 2 year old girls, particularly on their birthdays, should be first of all fun. This will keep her busy for a long time. It's the best piano for beginners as your toddler can learn the basics and play things back to listen to.
14. Indoor hover ball with LED lights
This hover ball on Amazon is battery operated with flashing lights. It's ideal for indoor use because it has soft bumpers to protect your furniture.
15. Tricycle
Tricycles are a safe way to encourage your toddler's independence. They make a great and age-appropriate gift for a 2 year girl because a tricycle for a toddler helps with coordination until they learn to balance a bike.
16. Leapfrog Scrub N Play Smart Sink
Leapfrog toys for toddlers are always cool. This smart sink makes an ideal gift for a 2 year old girl because she'll be practicing handwashing (always necessary). She'll also be learning to stack dishes and learning her colours as it's a very bright and colourful toy.
17. Princess Play Foldable Tent
Please note that the balls usually need to be purchased separately.
This is one of the best indoor play tents for toddlers. It's very convenient because it's foldable and easy to put away. This means that it does not have to become another one of those toys that clutter up your home. At the same time, it becomes a perfect little haven for your 2 year old to have some alone time.
So these are some of the options I'm working with! These are some of the best and most age-appropriate gifts and toys for 2-year old girls.
If you purchase any of these for your 2 year old girl, let me know in the comments how she liked it.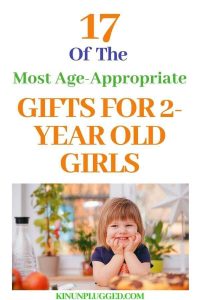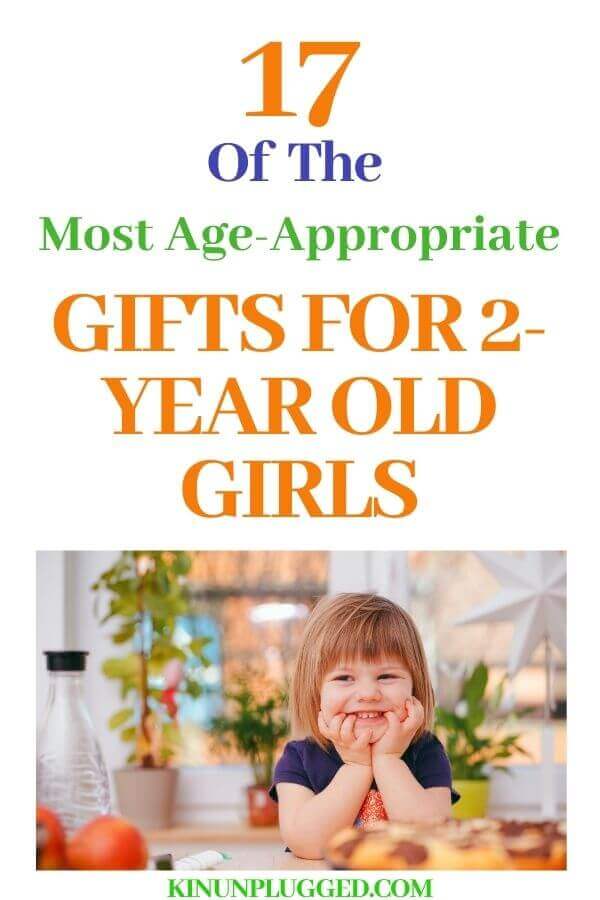 Please follow and like us: