Moms deserve to feel and look good when pregnant and in the postpartum period. We deserve to feel sexy even. Going to the beach or spending time at the poolside while pregnant does not mean being covered up from head to toe or trying to squeeze into your pre-pregnancy swimwear. There are maternity swimsuit options for you. Let's look at some of the best maternity swimsuit options available right now.
READ: How to feel beautiful while pregnant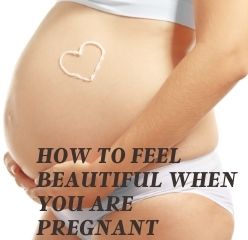 In this post, we will go through some of the most highly rated maternity swimsuits available. Some of them are from brands that you may have heard of. Others will surprise you. The priority for you should be comfort and support but luckily, some of these brands take looks into account as well. You will find that a lot of these maternity swimming costumes are pretty and rather feminine.
What should you wear in the pool while pregnant?
The answer should really be: whatever you are most comfortable in. Of course, there are other things that you should consider. Other factors that will indirectly contribute to your comfort. For example, if you are not wearing a regular swimsuit in the pool while pregnant, you have to ensure that what you choose is not too thick as to weigh you down.
Can you wear a regular swimsuit while pregnant?
Sure. If your regular, non-maternity swimsuit fits just fine as your baby bump grows, why not? However, it is important that you pay attention to just how comfortable you are in your regular swimsuit while pregnant. Are various parts digging into your skin as your skin stretches? Is the fabric of your regular swimsuit not stretchy enough to accommodate your growing belly?
Remember that you can purchase a maternity swimsuit durable enough to last your entire pregnancy and beyond so that it is worth your money. Do you wonder what other women do while pregnant? Do they purchase maternity swimsuits?
Do women tend to purchase maternity swimsuits while pregnant?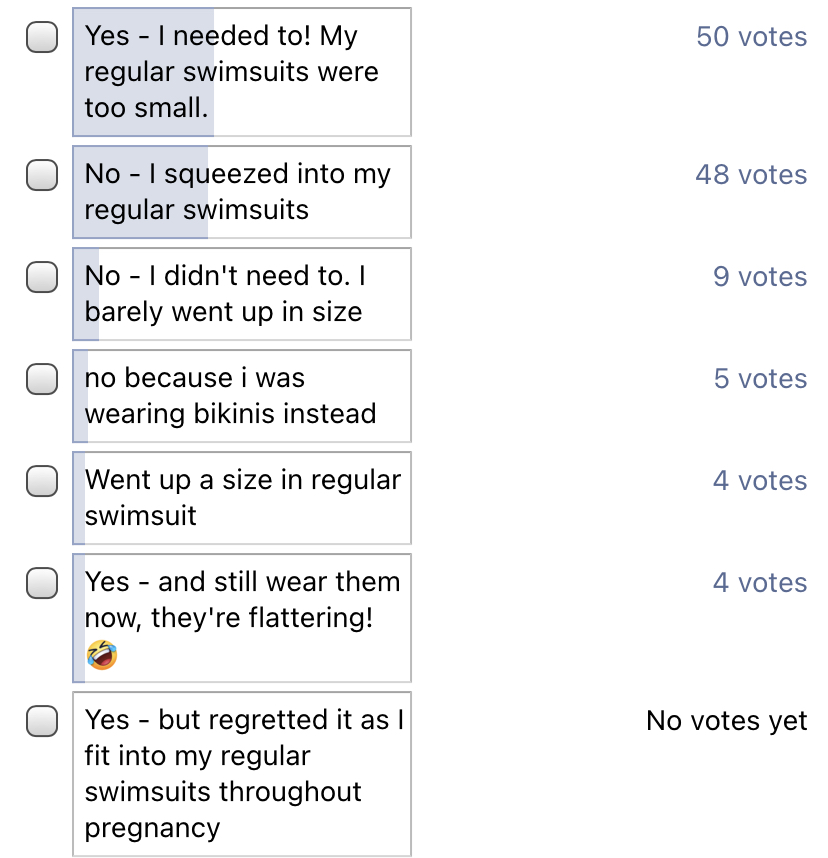 I ran a little poll on Facebook to see how many women actually take the plunge (pun unintended) and buy a maternity swimsuit instead of try to fit into their regular swimsuits. I provided the following response options:
Yes – I needed to. My regular swimsuits were too small.
Yes – but regretted it as I fit into my regular swimsuits throughout pregnancy.
No – I squeezed into my regular swimsuits.
No – I didn't need to. I barely went up a size.
I also gave allowed respondents to add their own options to the poll.
As you can see above, out of the 120 ladies who responded, 45% needed to get maternity swimwear. This may not seem like a high enough percentage for you to rush out and get some for yourself. However, you should also consider that only 40% of them decided that they could or would fit into their regular swimwear and only 7% of the 120 women did not need to purchase maternity swimsuits because their clothing sizes did not change throughout pregnancy.
Based on the poll results, you can conclude that if you go up any number of sizes in pregnancy, it is very likely that you will need or want to get a maternity swimsuit.
The Best Maternity Swimming Costumes available online this year
DISCLAIMER: At no additional cost to you, I may receive a small commission from purchases made through some of the links on this page.
This has the all-important adjustable straps and also has ruched sides which make for a more flattering fit. It is also very roomy and leaves plenty of space for your growing belly. It should work nicely from the beginning to the end of your pregnancy.
Despite being non-padded and non-underwired, this swimsuit is solid enough to provide great overall support. If you are a no fuss and frills kinda woman, you'll appreciate this swimsuit for exactly what it is – comfortable and durable. It also happens to be flattering, which is a nice plus.
3. Recycled knot detail swimsuit
If you're a fan of non-padded cups, you'll like this swimsuit. It's made to fit you from pregnancy to after you give birth. Even if pregnancy has made you bustier than you are used to, you might find that this accommodates you well. It is comfortable and flattering too.
This is obviously a pretty swimsuit. It is also stretchy and allows your body room to grow in it. It offers comfort and you are likely to be able to use it even after you have had your baby. If you are not a fan of padded cups, that's fine as the pads are removable!
5. Textured twist necked bandeau
I love a good halterneck anything and certainly a halterneck swimsuit! It is designed to still fit you post-baby which makes it good value. If you also love textured fabrics as much as I do, then you'll love this. It's the kind of piece you might wear if you plan to sit next to the water instead of in it as it's just so pretty to look at and dress up with a bit of jewelry.
6. Ruffle trim non-underwired maternity swimsuit
This is lovely and quite simple piece with a bit of ruffle trimming on the upper body. The straps are adjustable and you can choose to cross them over as well for a different look or to achieve a different kind of support. It is important to not as well that the padding is removable. The fabric is also of good quality.
Adjustable straps on this one! Exactly what you need when your boobs are growing right along with your belly. The adjustable straps are also a Godsend if you plan to breastfeed or are breastfeeding and your boobs are changing size fairly frequently. This suit is comfortable and offers great support in the bump area while also stretching to accommodate a growing belly.
So there you have it – some of the best and most highly rated maternity swimsuits available right now!
Please follow and like us: