I've documented my baby's staple bath time products in the past. I had to keep things simple because she had an irritation around her neck that no dermatologist we saw could quite correctly explain. Luckily, by the time she hit a year old, my sister had suggested trying coconut oil. Imagine that after all the lotions and ointments doctors had prescribed, it was coconut oil that worked like magic! That's a story for another day but these Child's Farm Grapefruit and Tea Tree products have been a fun adventure for us all.
You may also like: My baby's bath time staples
Clearing up my child's skin irritation meant that I could finally venture into using other moisturisers for her. We tried out the Child's Farm moisturiser and it seemed to work just fine. No flare ups. No irritations. However, we only started using it a few weeks before we moved and by the time we ran out, we had left the country. Now that we're back in the UK, Child's Farm products are on our list to get back into. How wonderful that we got gifted their new hand care set as soon as we got back!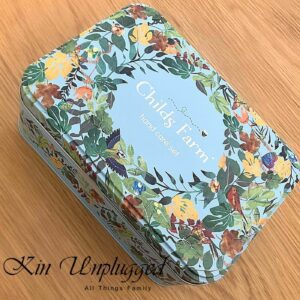 If there's any part of your skin that's indirectly suffered this year, it's probably your hands. It certainly is for me and for my daughter as well. I was very pleased to receive this.
Child's Farm Grapefruit and Tea Tree hand wash and moisturiser
What's inside
We got gifted a handcare tin with:
Grapefruit and organic tea tree moisturising hand cream
Grapefruit and tea tree moisturising hand wash
A nail buffer
The tin is very pretty indeed and made for fun opening with my daughter.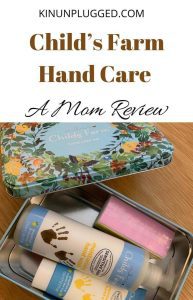 The Perfect Gift
This makes for a great gift for anyone really but it would be most useful for people who work with their hands a lot. That goes for quite a few jobs, of course. However, right now, anyone would appreciate this as a gift. If you've been doing all the right things, you've probably never washed your hands as often as you have this year and the skin on your hands may be showing it. Hand sanitizers can also dry out your skin so if you're not moisturising as often as you sanitize and wash, your hands are probably in trouble right now. My daughter's nursery gets them to wash their hands more frequently throughout the day now too so I'm having to make sure she's properly moisturised as well.
As a gift, both of these Child's Farm products work for anyone of any age because they are suitable from birth. If you know anyone with eczema who finds it difficult to get everyday hand care that does not irritate their skin, these products are perfect. In general, if you have sensitive skin, these are likely to work for you.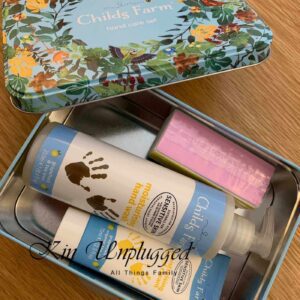 Light, luxurious and moisturising
We've been using the hand cream and hand wash for almost three weeks now and are very much enjoying how obviously moisturising it is. We see a definite improvement in the appearance and feel of our skin. For me, it's a big deal that as light as the moisturiser is in texture, it is also somehow very rich and I don't need to re-apply it too frequently. I don't have a whole lot of time for self care daily and I like to know that when I use a moisturiser, I won't have to remind myself to re-use it in the next couple of hours!
I have a preference for clear hand washes and this one is clear and not too thick either. The Child's Farm grapefruit and tea tree hand wash has the same amazing smell as the hand cream so there is truly nothing about that I do not like. It leaves your hands feeling clean but does not dry them out. You don't have to use a whole lot to lather up either so I can tell it's going to last long.
Grapefruit and organic tea tree oil scent
The smell truly is heavenly. It is a really fresh scent. The citrusy scent of grapefruit is energizing. It's not strong but rather light so it doesn't overwhelm me like some other hand washes you'll find in the shops.
I'll definitely be looking out for the hand cream and wash in the shops for when I run out of these. I'm enjoying them so far. It's such a huge plus that both myself and my daughter can use these together. She likes to use the hand cream on her own now and it's refreshing to see her grab for hand cream that us adults use from the centre of the dining table and not have to worry about whether it might irritate her or not.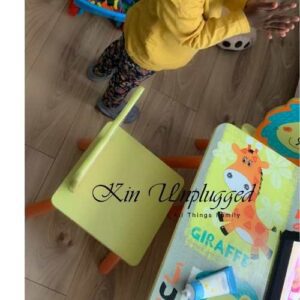 Finally…that lovely tin…
I planned to re-use my pretty tin for all my sewing kit bits and crotchet needles but my daughter is a little obsessed with the tin so I'll have to find some more toddler-friendly items to put in it. I'm not sure what yet. I do know for sure that it is just too attractive to throw away!
Have you tried any Child's Farm products before? What did you think?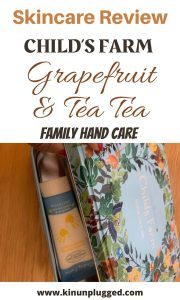 Please follow and like us: