Mom guilt is an awful thing. It's worse when it springs up at times when you know you're doing something that is most likely for the good of your baby. It also comes up when you're doing something like putting your baby into daycare because you have to go to work. Or because you need four hours every morning to sort other parts of your life out before you have your baby with you for the rest of the day. Choosing the best daycare will make a world of difference to any guilt you may feel.
You may also like: 5 Secrets to relieving stress for Working Moms
You may have considered other childcare options or you may have no other childcare options available to you. Family child care is not on the table for every mom. Your family may live too far away. They may live close by but be too busy to help out.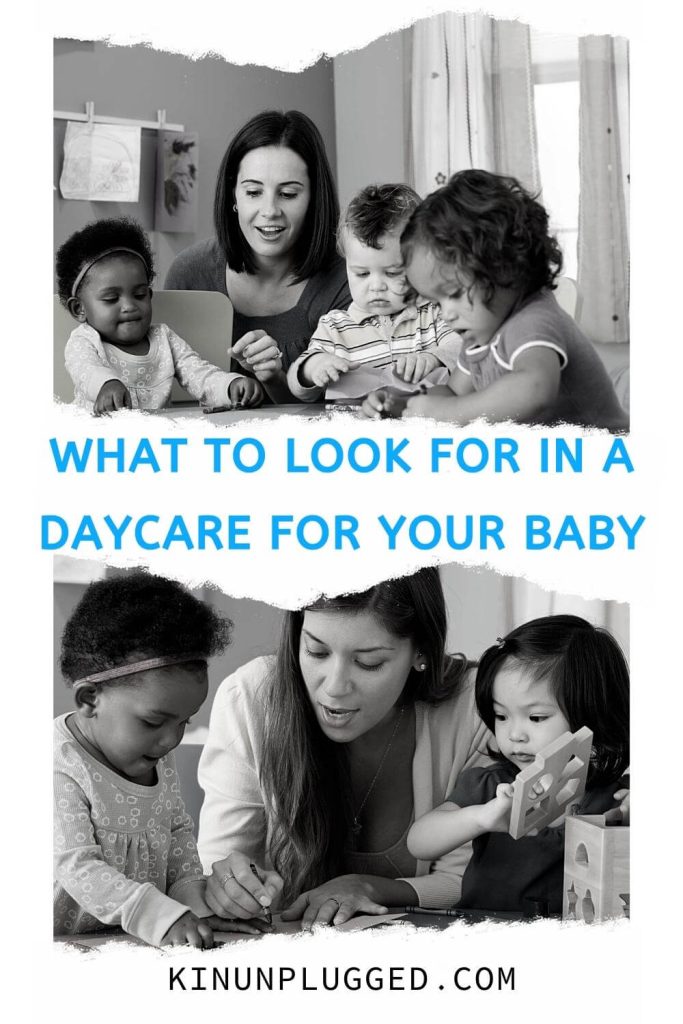 If you do have to take your 3 month old or 2 year old to daycare, don't allow mom guilt to plague you. You know what will make you feel at ease? Knowing that your baby is receiving quality childcare.
Daycare signs to check for
What should parents look for when choosing quality child care? Settling on the right daycare for your baby is a big task and so can be very daunting. Before we get into that, you should know how important it is that you put your child in a daycare that is not too far away from home. It's vital that you are able to get there quickly to pick them up or attend to them in any other way if you need to.
Then once you have checked the daycare's accreditation and qualifications of educators at the daycare, here are some other things to look out for.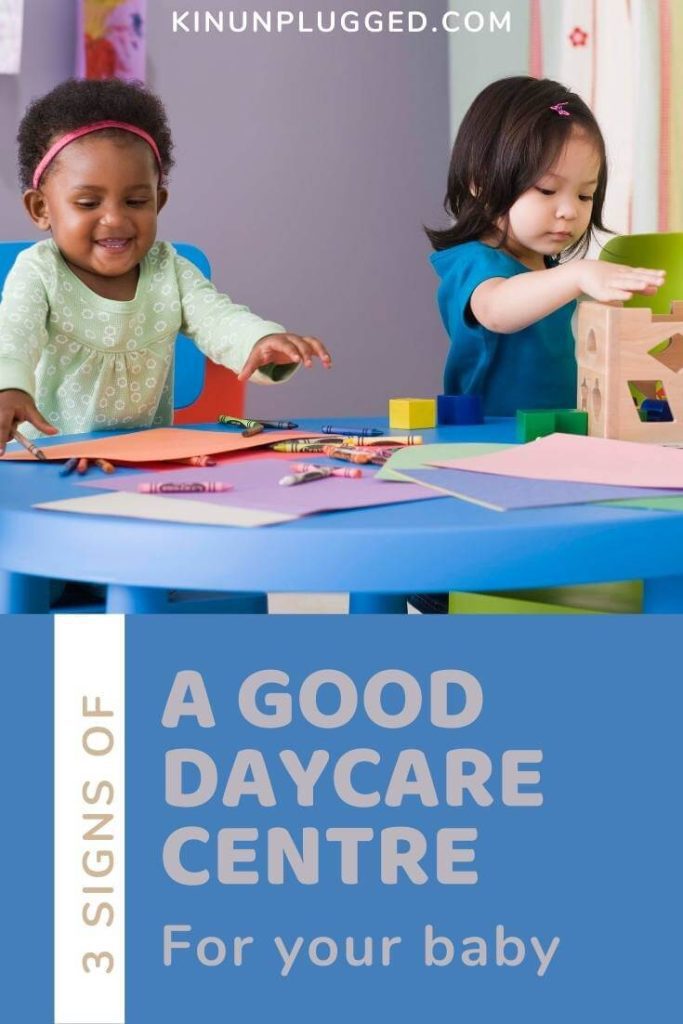 3 Signs of a good day care
1. Parental with the attendant assigned to your child
When your baby initially starts at the nursery, you have the opportunity to speak one on one with the primary educator or attendant for your child. You get the chance to ask them questions about their qualifications, experience, how long they've worked at this particular daycare, and more. The attendant should make you feel welcome to pose as many questions as you'd like and leave room for future communication as and when you need it. You should also be able to get the opportunity to frequently discuss how your child is getting along as the term goes on.
2. Good teacher to student ratio
Consider how many children each teacher is assigned to. A good ratio means that the teacher will be able to generally oversee the education and safety of all the children in their care at one time. Depending on how little or young your child is, the teacher to student ratio really should not be anymore than a 1:2 to 1:10 ratio. 
3. Healthy food
Now we know that it's alright for kids to have a bit of sugar or not completely "healthy" meals sometimes. However, sending your baby off to a structured environment means that you would expect the daycare to have prepared healthy menus in advance. Your daycare should be offering a healthy, well-balanced menu weekly. It should also be willing to accommodate any food allergies that your child has or allow you to send your baby in with appropriate food if you feel the food being provided will cause any kind of reaction.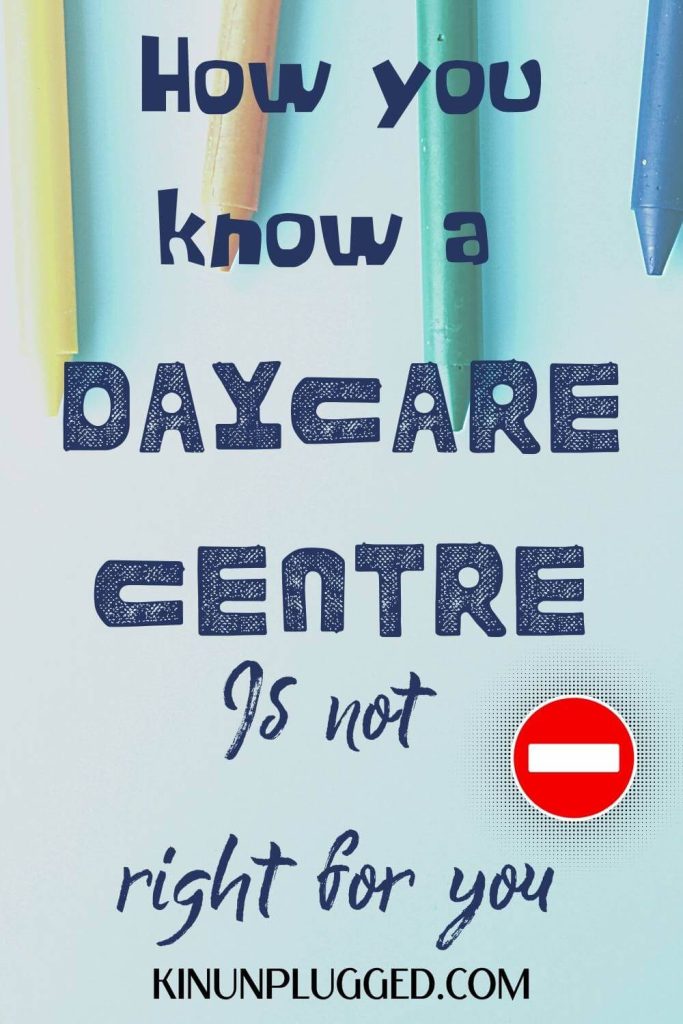 3 Signs of a bad daycare provider
1. Inadequate communication
Daycares or nurseries where there is little communication with parents are more than likely to be problematic. Parents want to know that their children are enjoying their environment. They also want to know if there are any problems with their babies adjusting, playing with other babies and so on. It's the things that others may think of as little. Then, of course, there are also the bigger things like a viral infection at the day care or the reason for an injury that your baby comes home with. If your daycare is not big on daily or weekly communication at a minimum, it is probably not the best place for your baby.
2. Insufficient regard for your concerns
You're worried that your baby might not be hitting their developmental milestones at the right pace and you voice this to their primary educator at the day care. They do not appear to be truly listening to you. Neither do they discuss your concerns in any great detail with you. "I'm sure your baby will be fine" is all you get.
3. Bad safety and hygiene standards
This is major. It is an absolute daycare red flag and a good reason for you to pull out your child immediately. How can you have any peace of mind leaving your baby in a place that is bad for their physical health and safety. Mind you, it's important to look out for the hygiene standards of both the nursery or daycare environment and also of the educators or attendants working there.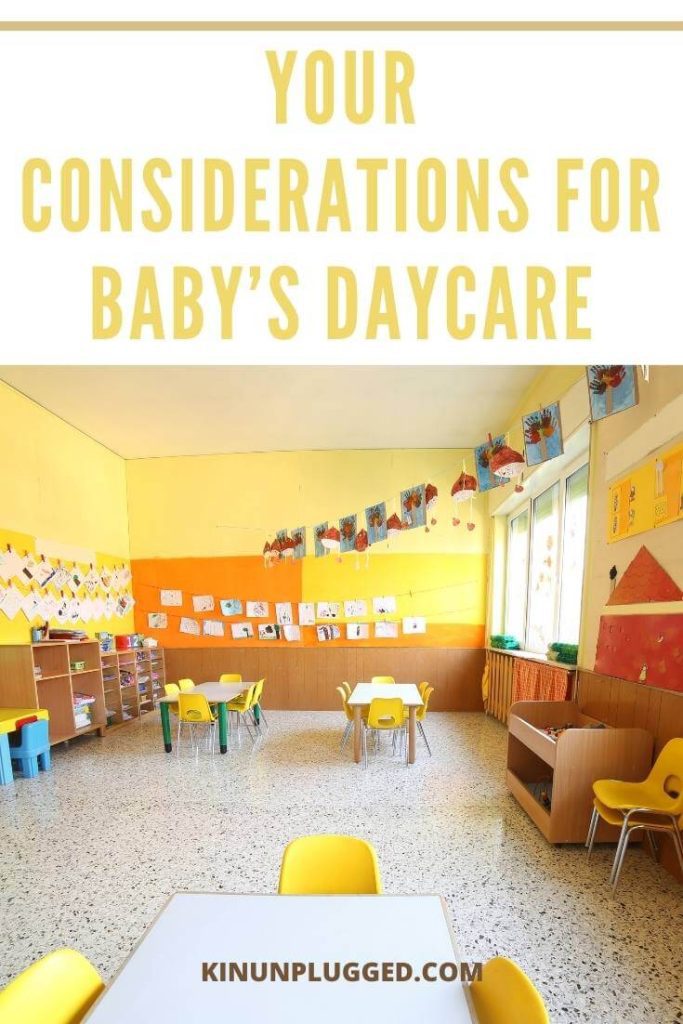 To conclude
Trust your instincts. Do not feel tied to one daycare centre because your baby is already secured a place. Their physical, emotional and mental safety is paramount. If you feel at any point that any of those things are in danger, that is not the best daycare for you and you must address the issue immediately. 
How have you assessed the best day care for your baby? What were some of your red flags?