There is no question that parents are quick to learn that aside from diapers, baby wipes become one of the most frequent expenses for daily use.  You will be using them all day long for many different purposes and there never seems to be enough of them.  In this post, I'll go into how to make baby wipes with the best and simplest homemade baby wipe recipe (in my opinion).
Why would you make your own baby wipes?
The idea of creating this kind of DIY wet wipes could be for any one or more of the following reasons:
Your baby has sensitive skin and so it is important to you to know exactly what goes on your baby's skin at all times
You want to be able to make more baby wipes to last a much longer time than you would get out of a single pack of disposable and store bought baby wipes
You would like to be able to save money on the number of packs of baby wipes purchased monthly
You want the reassurance that you could never technically run out of baby wipes as you can always make more at home quite quickly
The environmental impact of disposable wipes weighs on you and you would like to do your part for the environment by using recycled paper towels.
RELATED: The Best Commercial Baby Wipes for your baby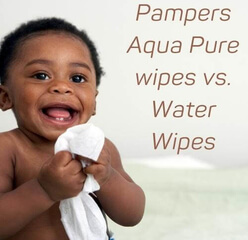 How long are homemade baby wipes good for?
I would not let one batch stay for longer than a couple of weeks. Also, ideally, any leftovers should be changed out every other week or so. This is to prevent mold forming. Realistically though, and particularly if you have a newborn, it is unlikely that you will have one batch stick around longer than two weeks anyway…if even that! If you are a first time mom, you will quickly realize how fast newborns go through baby wipes.
Depending on the climate where you are and how much of the wipe solution you make, the wipes could also dry out so it would be sensible to refresh them before they do.
I recommend using a marker to write the date you make each batch on the container to remind yourself to change them out after a couple of weeks if necessary.
Are homemade disposable baby wipes flushable?
The same way you would not flush paper towels or kitchen tissues, you should not be flushing these either. They should be disposed of in a bin rather than down the toilet.
How to make disposable baby wipes at home
Disclaimer: At no additional cost to you, I may receive a small commission from purchases made through some links on this page.
The DIY baby wipes approach to baby wipes is not as complicated as one would think. In order to make natural baby wipes at home, you will need the following items:
1 roll of soft paper towels of your preference. To avoid tearing while in use, get paper towels that are thick and of high quality.
2 tablespoons of a gentle baby bath liquid soap. Castile soap is a good option but do not feel the need to restrict yourself to this as you may already use a perfectly good cleanser for your baby's skin.
2 cups of water. The water used should be boiled or distilled to reduce the possibility of bacterial growth.
1 tablespoon of baby oil (you can also use a tablespoon of coconut oil or olive oil instead…or in addition!). This will help to stop your baby's skin from drying out. If your baby is already facing dry skin issues, an oil might be good to counteract them but it would be best to consult a dermatologist first to figure out just which oil will do the job best. Find some essential oils options below.
A large sealable cup or container for your homemade wipes
*For witch hazel baby wipes, you can add a single tablespoon of witch hazel extract. A benefit of using witch hazel is that it is a natural preservative and so can contribute to making sure your wipes solution does not go off too soon.
*You may also wish to add a tablespoon of aloe vera gel. It has antibacterial properties but it also works great for moisturising your baby's skin.
Now that you have all of these things ready, just start by cutting the paper roll in half. You can boil 2 cups of water for 2 minutes and once the water is ready, add the baby oil and liquid soap to it. Then just pour the mix evenly on top of the paper towels and let them soak up in the container.
Essential oils options
Tea tree oil
Almond oil
Lavender oil
Rose
Coconut oil
These oils are all easy to find at health food stores or even online. The essential oils help to lock moisture into your baby's skin. However, you may choose to use them simply for their scents. There are also antibacterial properties to some of these essential oils for added benefit.
Yes, there are many benefits to including essential oils in your recipe. However, some babies might develop a skin irritation to certain essential oils. Keep a watch out for any irritation and discontinue use immediately if you notice a reaction.
For on the go…
You can make a smaller batch to go into your diaper bag if you are frequently out and about with your baby. Otherwise, it should be fine to have a smaller container to fill up when you are leaving home. Just remember to actually fill it up so that you are not caught out without those all-important homemade baby wipes!
To conclude…
The do it yourself baby wipes project is likely to feel easier to do than you expected. Some people like to make their wipes similar to witch hazel baby wipes and others prefer to mimic other brands. It's all about being able to find the right kind of paper towels. It is also about finding the right kind of scent for your oil and soap.
This is how you make your own homemade baby wipes. This recipe can help you save a ton of money each year! Moms of babies truly do not have time for much anyway which is why this simple recipe is so amazing.
Please follow and like us: