Reading Time:
5
minutes
Some of my fondest memories of my childhood involve us all driving hours to visit my grandmother and great grandmother. I remember lots of old books, plenty of food and an incredible amount of laughter being involved. It is very clear in my mind because that trip did not happen very often in a year, but when it did, it felt great. Now that I think about it, although we did not call them that, those trips were an example of family traditions.
What are family traditions?
Family traditions are activities that a family partake in together at certain times. They can be created spontaneously or intentionally but they will usually continue because family members make a conscious effort to carry it on.
You may also like: My favourite quotes about family
What is the importance of family traditions?
Establishing family traditions is special and can become important to a family because it tightens the bond that you share. More specifically, there are three reasons I can immediately think of why family traditions are so important.
For the quieter or more private members of the family who tend to spend more time on their own, it is an opportunity for them to actively take part in whatever it is that the family is up to. They will hopefully enjoy the time spent together whether they expect to or not. 
It takes a bit of creativity to come up with activities that an entire family can enjoy together. Especially if you have a larger family. Getting your creative juices going as a family (or as a couple, if your partner and yourself are brainstorming together) is in itself a bonding activity.
Families do not really get to spend time together and know each other unless they make the conscious effort to do so. Family traditions create the space for you to get to know each other outside of the busy day-to-day lives of each person. You get to stay up to date on the likes and dislikes of each other and iron out any issues that you've swept under the rug for some time.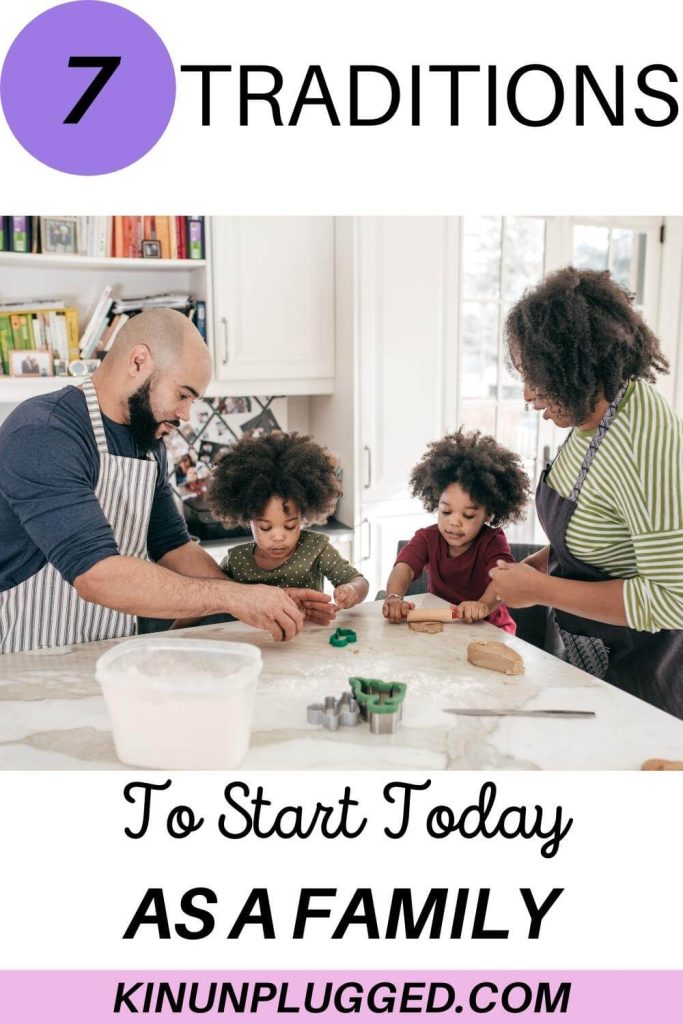 Where does culture come in, if at all?
If your family comes out of a certain culture(s), that culture may influence the kinds of traditions you create. For example, as a Nigerian-Ghanaian family, we could choose to pay homage to various aspects of our cultures by celebrating them as a family in different ways once or twice a year. We could decide to celebrate each country's independence day annually. 
You may also like: My Transnational Marriage
Due to an individual's culture also, they may have some family customs handed down to them that they must carry on with their own family.
How do you start a family tradition?
Think about something that everyone in the family likes to do. You may have only done it once or twice, but when you did, everyone clearly enjoyed it. Do that again. And again. Every day, week, month or year at around the same time. There you have your family tradition.
I'm going to give you 7 examples or suggestions of family traditions to start. The aim of each is to make your time together as a family more meaningful and to create cherished memories together. Not surprisingly, a few of these suggestions involve food!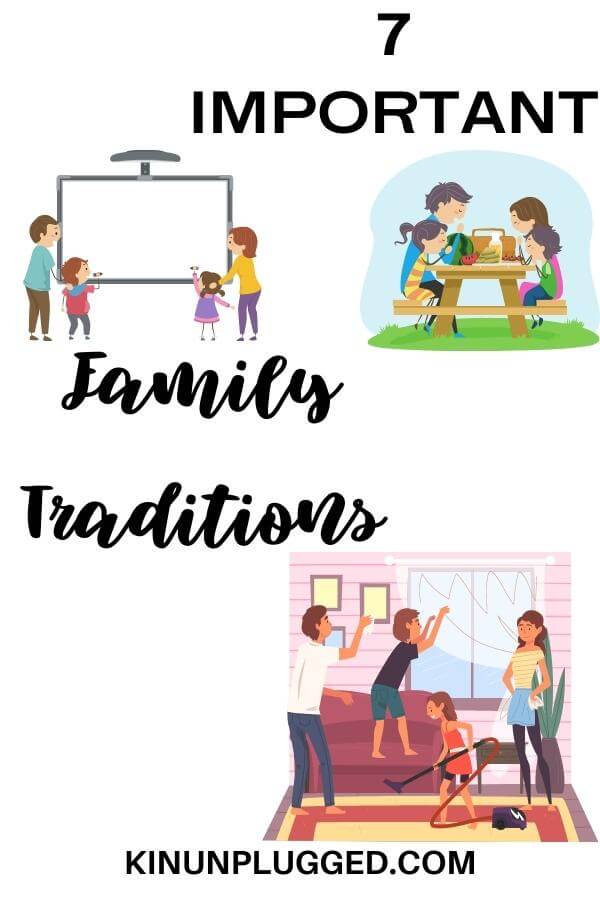 7 Ideas for Family Traditions you can start today
1. A foodie night in with an interesting name
Fajita Friday. Taco Tuesday. Surprise Sunday. Make it a fun name and try to choose foods that everyone likes. If you have a large family, choose something that the majority of your family can enjoy and that no one hates.
2. Eat at least one meal together every day
For many families, that meal will be dinner. It's the end of the day and none of you have much else planned for the rest of the night except food and sleep. Sit down together and talk about the highs and lows of your day.
3. Create a family conversations journal
This is a journal or simple notebook that everyone in the family has easy access to. Whenever someone has a topic that they'd like to discuss as a family, they write it down in there. Come back to it once a week and talk about any issues listed there. Tick them off as and when you all feel the issues are resolved.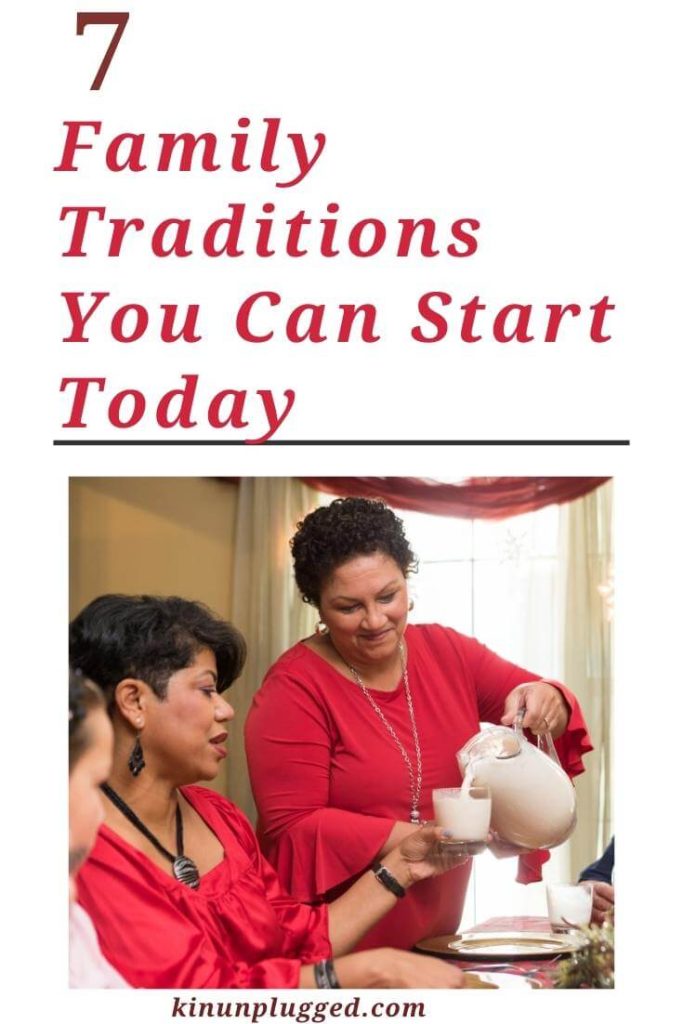 4. Deep clean together once a week
The satisfaction of having a clean home is one that can be difficult to achieve especially when you have young children. When they're old enough to do a bit of cleaning themselves, however, you should get them in on it. As a family, clean your home as thoroughly as you can for a set amount of time each Saturday morning, for example. Doing this activity together gives you the chance to chat as you work. You also get to teach your children the importance of having a clean home and how to clean.
5. Rotate TV Shows
Periodically, let someone pick out a tv show that you can all enjoy as a family. Make sure it is not something so intense that you cannot miss a second of it as someone else commentates on it. It should be fairly relaxing and ideally funny too. There is nothing better than laughter shared as a family. 
You may also like: Funny family quotes
6. Annual photos
Quite unintentionally, and just because of how busy the world is, most families around the world do not get a good family photo in until the Christmas season. Whenever you manage to do it, getting photos together as a family is important to have memories to look back on. Not only for yourselves, but for the generations that come after you. Doing it once a year, though not ideal, does mean that you put more effort into it and do things like going for matching clothes. Cringey to some. Cute to me!
7. Praying together
To me, this is the most important and means that you've got Someone else holding you all together. You certainly can't do it for yourselves. It's too exhausting. Everyone's too busy and life happens so quickly. Praying together helps you all to put into perspective what really matters as individuals and as a family. Holding hands when you pray together is good to do too as it's just nice to have physical contact with the ones you love the most and in the purest way possible.
What family traditions do you have?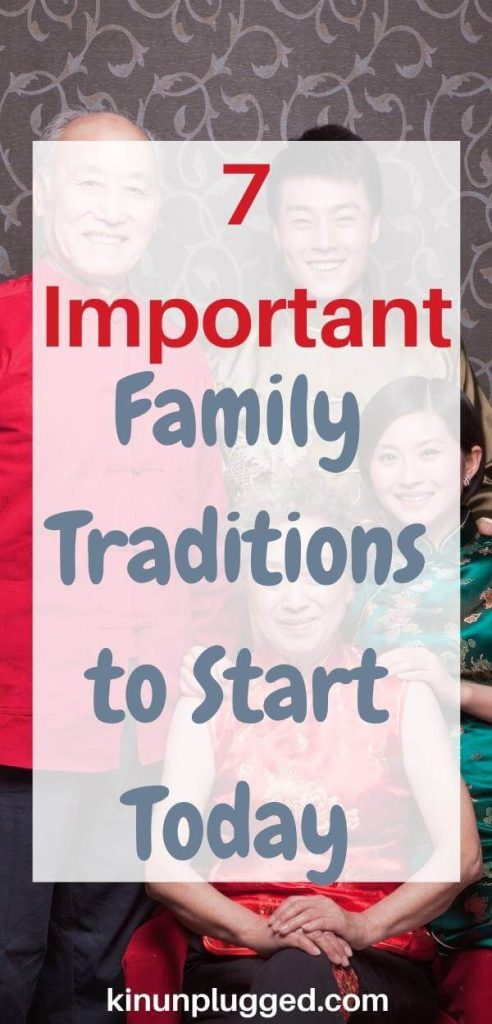 Please follow and like us: