Reading Time:
7
minutes
I've got to admit this. I'm not the greatest example of knowing how to achieve self care on a daily basis. But then, how many moms of little children really know how to find time for a self care day? New mom self care can be next to impossible to enjoy if you haven't got any support close by to help you whenever you need it. Luckily, your self care day doesn't have to involve checking into a hotel with a spa.
Babysitters, family members and friends are not always an option when you're a new mom. If you've been reading this blog for a while, you'll know that my family moved to Germany from the U.K. and we have no family close by. No friends that we can ask to babysit for us either. We also happen to be living in a time when we have to consider social distancing and so until very recently, babysitters weren't an option either. You're probably facing the same situation.
If you're a working mom, you might be working from home like a lot of the world's population are doing right now. It might be a change that, whilst you appreciate, has meant that you need to be even more intentional with your self-care. That's why you have to find ways to relax with your child around. I know what you're thinking – it's not always possible. Yes. I know. But you have to try. You can only try.
Disclaimer: At no additional cost to you, I may get a small commission for purchases made through links within this page.
Self-care for parents is not a mythical creature that we can never catch a glimpse of. There are things you can incorporate into each day to help you "remember yourself", so to speak. Then there's also setting aside one day a week every month or so and really going all out and consciously doing the things you're unable to do on a daily basis.

These self care day ideas can be tested out one by one or altogether. Read them through a couple of days in advance and see how many are achievable for your family.
This is my ideal self-care day. It's not always possible, but when I do manage to make it happen, I feel amazing. As a new mom, it was especially helpful in making me feel like myself again when my daughter was even younger than toddler age. New mom self care is vital!
You may also like: Gifts for Moms that they'll actually appreciate!
The most amazing self care day when your children are home
1. Start your day with the Serenity Prayer
You know the one.
Father, give us courage to change what must be altered, serenity to accept what cannot be helped, and the insight to know the one from the other.


Reinhold Niebuhr
Leave the things you can't change or control to the only person who can. Easier than done, yes, but the first step is acknowledging who is in control (it's never truly you). Appreciate what you can and can't do in the moment that you're in. I love this Oprah Winfrey self care quote that says, "Breathe. Let go. And remind yourself that this very moment is the only one you know you have for sure."
2. Do a minimum of 15 minutes of cardio
Get the blood pumping to your heart to get you ready to face any physical activity coming up in your day. Best thing is that this also produces endorphins which give you the natural high you need to get through your day with a more positive attitude and less anxiety.
3. Fill up a 1.5l bottle of water and see how quickly you can get through it
You should be aiming for a whole litre more than that. Chances are that you've been drinking far less than that. Start with 1.5 litres and sip on it throughout the day. Check how far you've gone by midday. Go for still and not sparkling water unless you feel you need an extra kick to brain to get you in gear every time you take a sip.

4. Put your phone out of sight but not on silent
Don't place your phone where you can easily see it as you shouldn't feel like you need to respond to every message notification or have your fingertips tingling to check your Instagram. Instead, make it so that you can hear it ring as that will be how people will contact you if they need to reach you urgently.
5. Remember to take your vitamins
Your ideal self care day should not involve neglecting your multivitamins. If you're not already taking some, you should discuss with your doctor if they might be beneficial for you.
6. Fruit & Veg time
While we're on the note on vitamins, a bowl of fruit and/or vegetables on your self care day will make you feel awesome from the inside-out. If your tummy is sensitive to greens, pick vegetables like tomatoes, lettuce or zucchini that are less likely to give you gas! Fruits like olives & grapes are also on the lower side of the gassy scale. You don't need to be struggling with a bloated tummy on self care day.

7. Order in
If you have no ready made food at home, get some takeout food for everyone. Get something you could never make yourself to make it special. You can also, if you prepare a day in advance for this self care day, get microwave meals for the day.
8. Have some chores for the day allotted to your kids
Make sure they're age appropriate so that you're not spending the day worried about whether your child is able to handle a task you've given them.
9. Resolve to take on no additional responsibilities for the day than you already have
Depending on how you do your kids are, there are an uncountable number is little tasks that you simply cannot avoid doing each day. Well, don't take on any more. Don't go taking responsibility for anyone else's child or promising to do anything for anyone that you have to finish off on self care day or soon after that. Don't have anything weighing on your mind.

Another of my favourite quotes which I think of as a self care quote is "If you allow people to make more withdrawals than deposits in your life, you will be out of balance and in the negative. Know when to close the account." (Christie Williams)
10. At-home beauty treatment
Choose an easy and quick beauty treatment that you can do for yourself at home. I suggest a moisturising face mask or eye mask. Anything that a child couldn't easily interfere with!
11. Have a therapy or counselling session
It feels great to talk about the things that stress you out. If you have a regular therapist anyway, schedule a mini session for this self care day and discuss the big or little things or just talk about why you think you need a day like this. It feels even better sometimes when it's a stranger you're speaking to. It helps to declutter your brain and make space for creative thoughts to grow.
Convenient, affordable and reliable therapy or counselling is available online by clicking here.
12. Declutter a space
One space. If organising and de-cluttering is your jam, take 10 minutes every other hour to organise or declutter a single shelf, cupboard or drawer until it's tidy and clean. One. Just one. I repeat. A single one.
13. Relax for 10-15 minutes every 3-4 hours
Stretch out your feet on the sofa or couch if you can't lie down on the bed. Ideally elevate your legs. Let no amount of crying or wailing move you for those 15 minutes. Unless it's absolutely necessary.
14. Hire a babysitter and do date night
If you can afford to, and already know and have used one that you can trust, hire a babysitter or nanny for two hours. Use those two hours to go for a quick date night with your husband or any other special person that you'd like to spend the evening with. It can be a meal or a nice walk to chat and get some fresh air.

15. A warm bubble bath after the kids have gone to bed
Once you're home, if you have a bath, slip into a nice, warm (scalding hot for me!) bubble bath and lay in it until it gets cold. Use a nice oil in the bath to make it feel extra luxurious and to leave your skin moisturised when you get out.
16. Write in/start a journal
If you don't already journal, today would be a good day to start. Read about the benefits of journaling HERE and get some relevant journal prompts to help you start by clicking HERE.
17. Try to be asleep by 11pm
Or which ever time will allow you at least 8 hours of sleep before your earliest riser is awake. Sleep is a massive factor in new mom self care and self care in general. You need as many hours of rest as you can get for this to be the ideal self care day.
So there you have it. My steps to an amazing self care day. If you try this out, let me know in the comments below how you feel.
What would you ideal self care day consist of?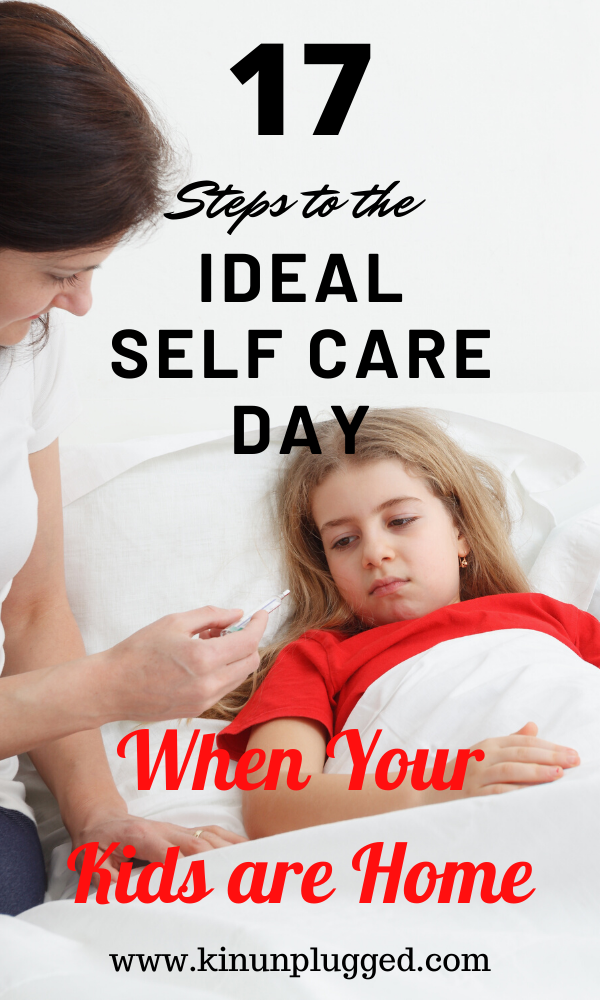 Please follow and like us: