You won't be alone right now if you're wondering how to survive working from home with your spouse. Working from home with others is never straightforward but perhaps more so when they're your partner and children. Here are some tips for couples working from home.
Designate a specific space in the house for yourself and your work
Couples working from home together need to create their separate work spaces. Even if it's only half a room, no one else should be allowed there but you. Yes. Not even your spouse. Practice some spousal distancing.
Alternate spaces
If you've got enough room and rooms in your home, changing your work space every week or so will provide that refreshing feeling you need that's so hard to get after working from home for a prolonged period.
You may also like: Using Relationship Therapy Online
Don't attempt to ignore them
It just won't work and you'll pay for it later. It might not be today or tomorrow, but you will.
Cover your ears
Whether it's headphones or earbuds, get some good ones that will effectively drown out the outside world. Play some music that will focus you rather than distract you. Or listen to some chilled podcasts that you don't necessarily have to pay too much attention to.
Give yourself deadlines to hit throughout the day
This is to ensure that you really are getting work done throughout the day and not looking for excuses to lie around cuddling with your spouse all day.
Alternate responsibilities
Household responsibilities will no doubt crop out throughout the work day. It could be anything from dirty dishes to overflowing bins. There'll be something that can't wait till 5pm. Even more likely if you've got children. Decide who is working today on making lunch for the family and who is taking on the task of taking out the bins tonight. Alternate these tasks. Make your spouse feel supported while you're "at work".
Take your lunch break alone
This is exercising your work simulation muscles and gives you some breathing space mid-work to do other things that you wouldn't normally get the chance to do if you were at your workplace.
Schedule a work related call or two each day
This is a great way to indirectly get your colleagues and/boss to hold you accountable for work that you've said you'll do.
Let your spouse know if and when you have scheduled meetings.
This will make them conscious of the times that you will be occupied speaking to someone else and they'll know they absolutely can't bother you at those times.
Get your partner involved
If you have no children and your spouse is not working, get him or her to support your work day by assigning them one task that they can do to help you out. That's if they're up for that, of course. Something they don't need expert knowledge to do. It's also a good way to get them to understand your job better than they already do.
Make your spouse your closing time alarm
This may be the hardest for some to achieve. It can be tough for a lot of people to finish work when they should. Especially when they work from home. There's the temptation to try to get a lot more done in the extra time that you'd normally use to make your way back home. Don't do it. Think of your spouse as your sweet end of day treat and shut that laptop down at end o'clock. Not a moment later. They might even enjoy it if you ask them to pull you away from the screen at the end of the working day!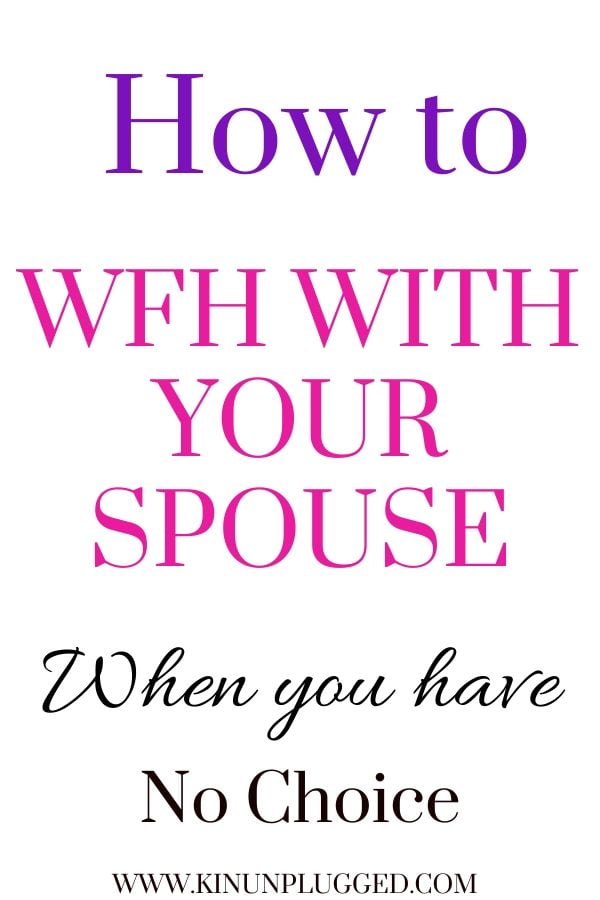 Please follow and like us: