Reading Time:
5
minutes
There are some big parenting questions to ask your partner before having a baby together. There is a lot of work involved once you start a family together.
What should I talk to my partner about before having a baby?
This list is for you if:
you're getting engaged or you're newlyweds,
a young couple who are considering conceiving together for the first time, or
already pregnant and awaiting the arrival of your little one.
Many of the items are parenting questions to ask your partner but in general, they will reveal more about your relationship than just how you will parent. Parenting questions for couples always bring more issues to the surface than one expects.
Why do you need this baby checklist?
From first and second hand experience, I can say that not discussing certain vital things before you go ahead and bring another life into this world can make for a stressful and/or miserable pregnancy and first few years with your baby. It's not surprising – it's a major life change. It takes more time and energy than many first time parents expect.
READ: Which parenting styles best suit you?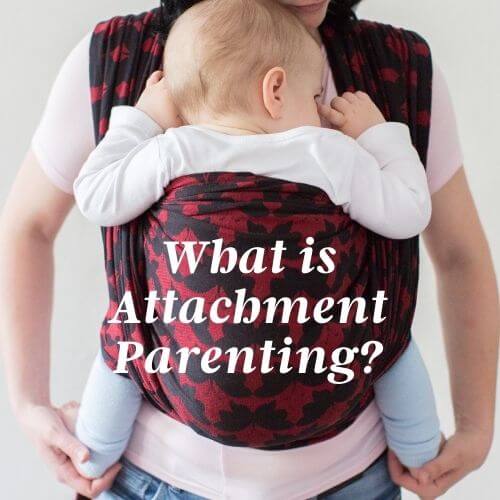 Married and unhappy with a baby to boot is not what anyone is aiming for. Those 10 months of pregnancy and first few years with your baby are some of the most cherished ones for any mom. Ask any mom friends. These early years are the years that you wish you could bottle up and store away to enjoy again and again later on down the line.
It would be tough to find that you're spending those precious moments arguing about things that, on any other occasion, would be mundane or even things that are extremely big but could be discussed in a different way. From potty training your baby or toddler to car seats to night feeds to sleep deprivation (that's a big one). There are any number of issues that could cause an argument.
Indeed, even if you've known your partner for many years, it doesn't guarantee that you know the answer to these questions. Raising children together brings up all the differences in your own upbringing. Neither of you may have considered some of these parenting questions to ask your partner before and may realise that they need to think about the answers longer than you expect. That will lead you to seeing the differences between you two. That's why it's important to talk as much as you can in advance.
RELATED: Things to do before having a baby
It's true that there's very little you can do to emotionally prepare yourself for a baby but there are other ways to prepare. After speaking with some friends, I found that the main points of conflict arose from partners not helping out enough, family members/in-laws/extended family butting in where they were not wanted and financial restrictions. Somehow though, husbands not wanting to help out with the baby seemed to be fairly easily forgiven compared to the other points! I wonder why.
Vital discussion topics for couples
Does having a baby make a relationship stronger? Not necessarily. Infact, it can do the very opposite. Your relationship after baby could take a serious hit if you don't have the right conversations before you go into it.
I've come up with this list of things to discuss before having a baby. You know I'm a fan of checklists. I suspect that it will grow in the future as I have more conversations with people and experience more of life as a mummy myself.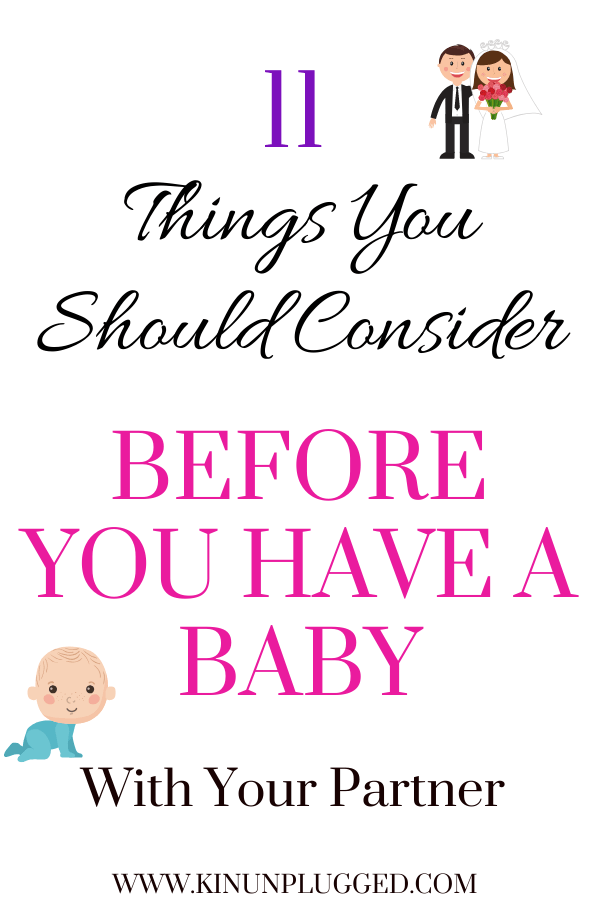 If you're about to become a mother for the first time, I promise that these 11 things to discuss before having a baby will save you an invaluable amount of time and heartache. Ideally, these are conversations to have before you even conceive, in my view. Maybe even before you get married to your partner. You may have fundamentally different opinions on how to raise a child and not even be aware of it yourselves. You must work on becoming a united front. Preferably before baby arrives.
However, chances are, if you are reading this, you're either already pregnant or already set on getting pregnant no matter what. These will be useful to you either way.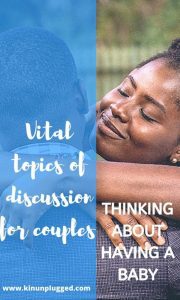 If you use it and it changes your perception of whether you are ready for a baby, let me know in the comments. Or email me: abby@kinunplugged.com.
Enjoyed these 11 things to discuss before having a baby? You might find Part 2 helpful as well. CLICK HERE to download it.
If you find it useful, you will ABSOLUTELY love my Couple's workbook to help prepare your relationship for a baby.
"Can we do this baby thing?" is an in-depth sit-down conversation delving really deeply into your relationship thus far and where you both stand as individuals. It would be especially helpful to making you feel ready for a baby. Find out how your partner feels about various family and baby topics. Use my baby book – Can We Do This Baby Thing? – to discover even more discussion points. It's also a fun way to learn more about your partner!
Happy contemplating!
*Receive the list to download as a PDF *
Purchase your Ultimate Baby Workbook
Please follow and like us: