Reading Time:
8
minutes
You see children in your future together. Much farther down the line or next year, there are a few journeys that should be on your list of trips to take before having a baby. Holidays or just any time away from home, will never be the same again once you have children. If you go without them, you'll be missing them and/or thinking of them every moment. If you go without them, it will be an entirely different experience than if you go alone.
As a couple, you want to make as many memories together as you can. You want to record every step of your relationship and what better way to make precious memories than to enjoy travel experiences together. They do not have to be crazy, wild experiences either.
The point is to spend time together doing things or just being in each others' company in a different environment or learning new things together. That's because once you have young children, a lot more consideration, money and general effort goes into travel and planning for travel.
You may also like: 9 Things I wish I knew before baby
Travelling also, believe it or not, brings out entirely different sides of people. Whether it's because some people do not enjoy the actual process of travelling, or that people are different in environments that are completely new to them, travel will allow you to see a different side of each other every time.
So what are the best vacations for couples to take before having children?
7 types of trips that every young couple should take before they have children together
1. A beach trip
One of the most romantic holidays for couples is a beach holiday. Think long walks on the beach, breeze flowing through your hair, some cute beach wear and the sun shining on your face. Sounds wonderful, doesn't it? You also have the opportunity to really reflect on your lives individually and plan out your future together.
2. A random road trip
This is the type of trip you might find yourselves enjoying once your family starts to grow as well. As a couple though, it can be a whole lot of fun to take a very long drive somewhere. You get to ask some intimate road trip questions with this one. You might even find out some things about each other that you never knew. Prepare well for this type of trip so that you don't start to get testy with each other along the way.
3. A seriously long-haul trip
If this is the last vacation before kids, and you can afford it, let it be a trip 8+ hours from home by flight. The farther away, the better. So far away that neither of you could decide to hop on a flight back home in the middle of a silly argument. This type of trip may not do as your first vacation as a couple but it will certainly present you with far more things to experience together than a vacation to a place reasonably close to home.
4. A Cultural Trip
Go soak up the culture somewhere interesting and unlike anywhere else that you've ever lived. Couples from two different cultures will benefit from going somewhere that is different from both their cultures. Somewhere that will be a learning experience for both of you. That way you're really learning something new together. Some of the most romantic places in the world are also very rich cultural experiences.
5. A Do-Nothing Vacation
This is the type of vacation that you'll have the fondest memories of once you have little children. It's one of the most important holidays to do before you have kids. A holiday where you literally lie around doing nothing except eat (purely for survival) and sleep. Take lots of photos of yourself sleeping. Seriously. You'll treasure those photos dearly for the next 15 years after having a baby. At least.
6. A European Trip
How much is a trip to Europe for two? Far less than it would be for a trip to Europe for three, four or five! Some of the most romantic holidays for couples are in European countries. There are a ton of scenic locations with beautiful backdrops for your photos and different types of activities.
7. A Luxury vacation
Now this one might be more tough to achieve. Depending on what you can afford, a luxury vacation is something that every couple can enjoy. A luxury couples retreat close to home or far away could be just the break that the two of you need before you embark on your journey to parenthood.
Whichever one(s) of these trips you choose to take before you have kids, you may now be wondering where exactly to go. I've got a few recommendations for you.
You may also like: What's the right time to have a baby?
Top 7 Incredible Trips for your "before kids" Bucket list
Some of these great locations allow you the benefit of more than one of the types of trips mentioned above!
1. Cape Town
There are a wide variety of activities you can do together as a couple here. Romantic things to do in Stellenbosch (a short drive from Cape Town), horse-riding in Noordhoek Beach, and visiting the Pink Flamingo. You have so many options. More than that for some though, may be just how beautiful Cape Town is. It is one of the most beautiful cities in the entire world.
2. Paris
The land of romance. Visit the Wall of Love (Le Mur Des Je t'aime), kiss at the Pont des Arts, or watch the sunset at Butte Beygeyre. You'd be in the city of love. Pretty much anything you choose to do would be romantic. There's a reason why Paris tops the majority of polls for most romantic city in the world. I recommended a European trip above as one of the trips to take before having a baby. Paris is a good place for you to start.
3. New Orleans
I couldn't recommend New Orleans highly enough. It's rich with culture and such a romantic place to be. From the historic tours to the abundance of live music joints, there's something for everyone. The highlight of Nola for me was the food. Everything was good. Everything. One thing you mustn't forget to try when you're there are the beignets.
4. Barbados
I'd suggest Barbados as one of those holidays to go on if you want to tick off both your do-nothing and your beach vacation bucket list. It's so beautiful and you could lay around on the beach doing absolutely nothing but admiring nature.
Having said that though, you could certainly take some time out to explore this amazing island. There are plenty of tours to take and Bajans are so friendly and welcoming that it's easy enough to get caught up in some interesting conversations with strangers who could become friends.
5. Ghana
Much like Barbados, you'll be getting a warm welcome and lots of sun. I'm not just saying this because I'm Ghanaian myself. Look up Ghana online and in addition to the rich culture and history, this is what you'll hear the most about the country. If you venture outside of the capital city, you'll get even more opportunity for adventure.
Haven't been anywhere in sub-Saharan Africa before? This is the place to start. It wasn't the centre and initiator of the Year of Return for nothing. There are also many options of romantic resorts where you can spend quality time as a couple.
6. Las Vegas
In Las Vegas, you can get a combination of different types of trips. It depends on how much you can afford to do or get. From romantic Gondola rides to shows and concerts to downtown tours to awesome restaurant choices, you can find something to keep you busy ALL the time while you're there. If this is your last vacation before kids, you might as well go a little crazy with the wild clubbing and casino scene while you're there.
7. Tokyo
The cleanest city I've ever been to. That's my first thought when Tokyo comes up in conversation. It is so clean. Starting from the airport, and then on to the public transport before you even get into any other you'll notice just how immaculate the city is. Okay, so you're not going all the way there for clean. There are also hot spring spas, gorgeous public gardens, and canoe and boat rides. You can get a taste of Japanese culture at any number of the shrines littered around the city, for example.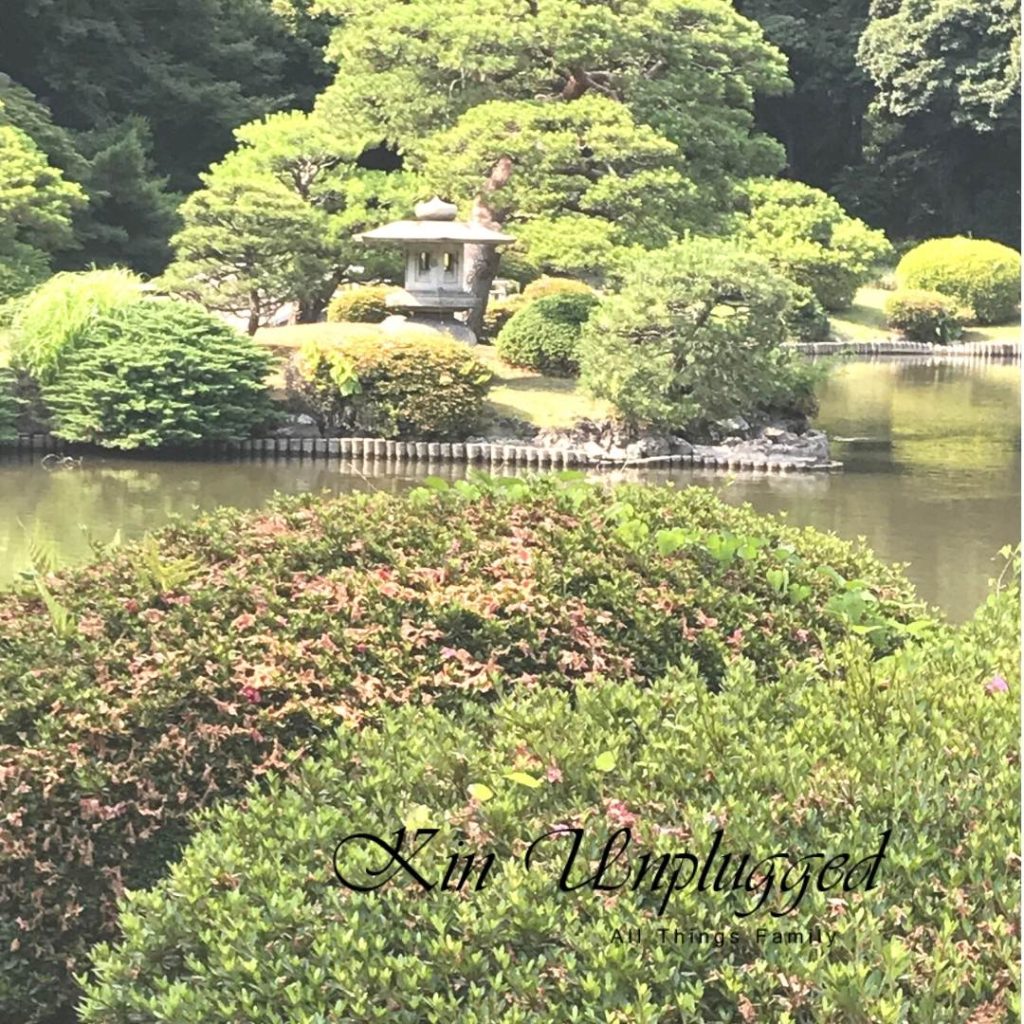 Public transport was reliable and it was easy to get everywhere by one mode of transport or the other. Fortunately, if you're up for long walks, you can also see a lot of the central area of the city on foot. If you prefer city vacations with a sprinkle of peace and quiet, Tokyo is the place for you. This goes into my top 3 trips to take before having a baby.
Finally…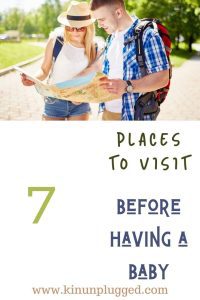 Yes, all these are excellent locations if you're looking for recommendations of trips to take before you have a baby. However, remember that the ultimate goal is to spend as much time together as a couple as you can. If it works best for you to have a movie night every night at home, for the next few weeks, then that's great! Just enjoy each other.
Did you travel a lot before you had children? What was your favourite trip?
Not a mom yet but have some places to visit on your bucket list before you become a mom? Where would you go for your last vacation before you have kids?
You may also like:
Please follow and like us: