Reading Time:
5
minutes
I was off work for quite a while before my due date. That meant tons of time on my hands to research and re-research things to prepare for your newborn baby's arrival. Boy, did I find more than I expected! The baby things to buy before birth seemed almost endless. I had to think back to my nephew's and niece's births and even further back to when one of my cousins was born about fifteen years ago to really put things into perspective.
YOU MAY ALSO LIKE: HOW MOTHERHOOD CHANGES YOU
Disclaimer: At no additional cost to you, I may get a small commission for purchases made through links within this post.
What baby items are essential?
If I had to tell you which 25 items I'm grateful I did have in place before I gave birth, it'd be these. This list is my idea of basics for a newborn baby.
A car seat that's easy to install. The world of car seats is, I dare say, almost as complex as the world of cars. Keep it simple and safe as possible. We went with the Maxi-Cosi Rock i-Size in grey. We used it a lot with her pram too as she seemed to prefer a bit of elevation.
Diapers and wipes. Yeah…right…duh! I've experimented with lots of diapers from Aldi UK ones to Aldi Germany ones to Naty to good old Pampers. The only ones so far that haven't caused me any leakage problems whatsoever (when they really should have!) are the Babylove diapers from Germany's DM stores. Too bad they're only available in size 4 on Amazon UK. They're amazing. I can't recommend any other brands apart from Pampers though. They're the most recognisable diaper brand globally for a good reason.
As for wipes, well I started out with Water Wipes for the first couple of months and then quickly realized that would do as long as they were soft and made up mainly of water. I now only use Pampers aqua pure wipes as they happen to feed through her diaper warmer efficiently and are also 99% water.
Wipes warmer. This one thing I didn't get before she was born but was ever so grateful for when I got eventually. If you have a winter baby, you'll appreciate it too. Your baby checklist absolutely needs it. I didn't initially get it coz I figured babies did just fine before they existed. Warm wipes turned out to be the difference between a screaming, anxiety-filled nappy changing session and a relatively calm diaper change. I use the Lionheart warmer. I've heard good things about the Munchkin one too.
A good nappy ointment. To me, Bepanthen is THE best. It is definitely one of the absolute basics for a newborn. We have used it for babies in our family for a long time and can testify to never having to deal with diaper rash. I attribute that to Bepanthen.
A diaper bin. This is one thing I certainly didn't expect to appreciate as much as I did in those early days. The refills last for so long, you hardly ever have to worry about changing the bin.
A baby carrier. My husband bought the Baby Bjorn which just never worked for me. It felt uncomfortable and although it was probably as simple as a little adjustment required, a baby wrap worked best for me and baby seemed most comfortable in it too. It puts her right to sleep! Any long, narrow and stretchy fabric is good too.
A portable changing pad for use both at home and on the go. This is one of the basics for a newborn that you do not realize you need until you suddenly need to change your baby while you are out and about and have nothing to lay your baby on.
A blanket(s) – you will always need these for a newborn. In all temperatures. I went with all breathable ones, just to be safe.
Baby-safe detergent. I stuck with Fairy's non-bio powder and recently tried a Persil sensitive gel too.
Baby socks. Your baby checklist needs some socks for all weather. Unless it is sweltering hot, you will need it for your baby. Newborns need time to be able to regulate their body temperatures.
A few cardigans for layering. I tend to go for zips wherever possible. Anything to save even a millisecond!
Onesies – as many as you can lay your hands on and in as many sizes as possible! Both long and short sleeved, and for ease, always go with those that you won't have to pull over baby's head.
A nursing pillow is required on your baby checklist if you intend to breastfeed. Comfort is key.
Muslins – again, as many as you can get. They're wonderfully multifunctional.
Nipple cream. If you plan to breastfeed, you'll need this initially. Well… I did for at least the first six weeks. After your nipples become adjusted to nursing, this is just one of the top basics for a newborn because you might need some to moisturise your nipples properly between feeds.
Nipple compressing pads
A nursing cover
Saline nasal drops. Depending on if you've got a generally snuffly baby, these may be a life saver for you. Absolutely one of your newborn essentials.
A super soft wash cloth – now this you really could decide to skip altogether as a muslin would do just fine. I chose to use an actual washcloth for a teeny bit of friction only because I wanted baby's first few washes to properly clean her off of all that lovely, healthy newborn gunk and I didn't think a muslin would do the job.
A bathing strategy. Note, I didn't say a baby bath. I've seen mums do it in sinks, bowls, buckets…whatever works for you and baby. I chose to bathe my newborn on my lap for months till she could sit steady enough in a baby tub. It gave me better control of her wriggly self!
Hooded towels. These basics for a newborn make the end of your baby's bath time that much more cozy and warm.
A bath and room thermometer. I'm still using this Tommee Tippee one for both her baths and occasionally her room. I've had to add on another thermometer that measures humidity too as she doesn't do well in a room that's too dry but this thermometer has served us well.
A rocker or swing is a newborn essential that will come in handy when your hands need to be baby free for a few moments.
A crib that baby can start in grow with till the first year at least. My little girl is already almost too long for her co-sleeping crib at 6 months old.
Finally, a basket or bin to arrange baby's things in is invaluable. It's helpful to have most of what you need in one spot.
Enter your email in the box below for a printable PDF version of this list: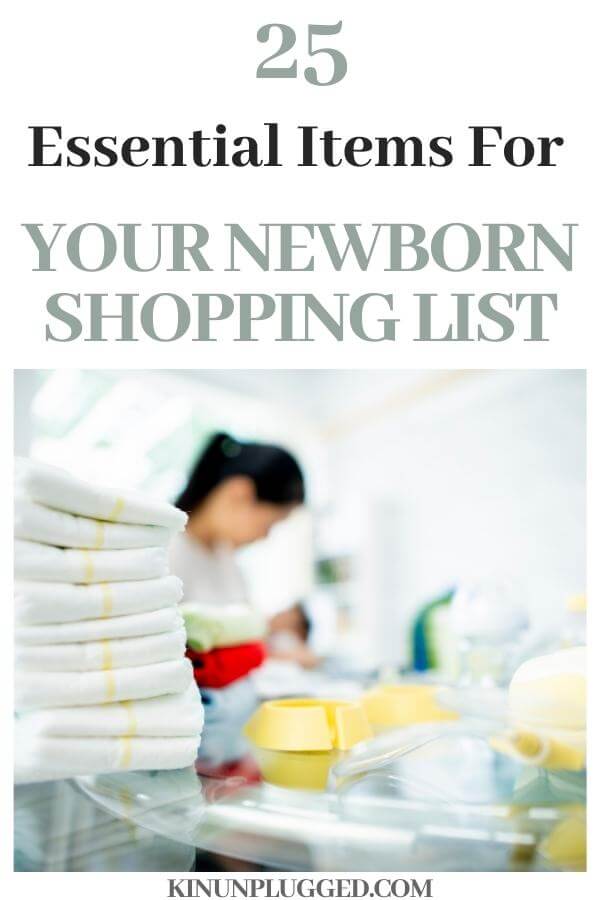 Are you about to be a mummy for the first time?
Do you have a newborn checklist?
Do you feel like you have done everything you need to do to prepare for your newborn baby?
READ
7 of the Best Maternity Swimsuit options
How to feel beautiful while pregnant
Secrets to the perfect Newborn baby bath (in a tub!)
Please follow and like us: