When I started introducing solids to Baby E at 5 months old, I was sure she'd take to it easily and love everything she tried. I read up on everything weaning related – all the baby food recommendations online. I knew it was best practice to offer her everything for the first time in the daytime so that I could spot any allergic reactions.
I also read about how it might be helpful to offer savory baby start foods before sweet so that your little one does not cultivate a sweet tooth.
Figuring it out
I do not know if those pieces of advice made any difference in my case. However, I did come up with a weaning menu based on various baby food recommendations to help me figure out what kinds of tastes she preferred. I still amend the menu every few months or so as her tastes change.
READ: Butternut squash for baby-led weaning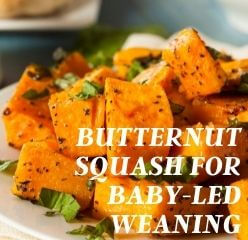 This menu has helped me figure out at each stage what go-to foods she will eat when she will not have anything else and also helps me pick out recipes to try for her based on the things I already know she likes. In general, having this weaning menu helped me set a routine for both myself and her while also making sure she was eating varied things each week…as much as possible!
READ: Blueberry recipes for Baby-led Weaning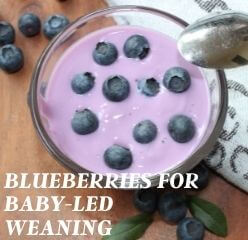 The items on my baby's first foods list were also compiled with help from my knowledge of the foods that were fed to babies in my family for generations and generations. Where necessary, I substitute some food products that my grandmother would recommend for others that are more readily available here where I live. For example, I might need to use potatoes instead of yam.
Ups and downs
Please keep in mind that at any point in the week or month, I have to totally throw my cute little weaning menu out of the window when she decides that due to feeling unwell or uncomfortable for some reason, she will have only one item on the menu. Yes. That one item for breakfast, lunch AND dinner! That one meal is almost always HiPP's Gute Nacht cereal. This post isn't sponsored but if it was, it really should be by HiPP.
My personal rule of thumb
Try each one at least three times on non-consecutive days to be sure of whether they're into it or not. And then try the things they didn't seem to like again in a month. Chances are they will suddenly love it!
Receive PRINTABLE PDF COPY of my Weaning Menu
Enter your email address below to access the menu and use the social share buttons to share this menu with any moms you know who are embarking on the weaning journey.
RELATED: How to fully wean your baby off breastfeeding
Items on my menu
Disclaimer: At no additional cost to you, I may gain a small commission from purchases made through links on this page.
There are some foods on my baby's first foods list that may be new to you. Kooko/akamu, for example = corn dough. You should be able to find it easily in African food stores or stores that sell African food. You can also find it online. Then there are some items on the list that I purchase here in Germany and that may therefore not be available in stores outside Germany. You may still be able to purchase them online though.
Do you have a menu for weaning your baby already? Will you adopting some of my baby food recommendations for your baby's menu?
Please follow and like us: