You may be shocked to know that disposable wet wipes — whether we're referring to baby wipes or disinfecting wipes — are a cause of concern for sewer systems and the environment. Although most disposable wipes are labelled as "flushable," they commonly consist of plastic and are therefore not eco-friendly. Don't worry, better options like wet washcloths and biodegradable wipes are available. In this article, you'll find some of the best biodegradable baby wipes
It is very easy for a company to claim to be natural and organic, for all it takes is false advertisements, which makes it difficult to identify the honest and true organic options. Don't worry, we got you covered. We will inform as well as guide you for being environmentally conscious through this little change in your baby care routine.
So keep your baby's bum happy along with caring for the environment. Read below for know-how.
Why go for eco-friendly wipes?
Need more reasons to opt for biodegradable wipes? Here's what you should know. Usually baby wipes when flushed down into the waste system take around 6 weeks at 21 degrees to properly degrade. That is a lot of time. It means it stays in the sewage longer and eventually goes into the water bodies half degraded which may cause the killing of natural organisms as they may choke on it. They disturb the natural ecosystem eventually.
Another anxiety-provoking fact is that all the unnecessary artificial fragrances and alcohol parabens are harmful to your baby's delicate skin in the long run and are not worth using.
RELATED: How and Why to DIY your baby wipes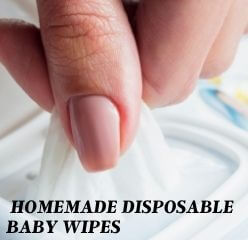 Can I flush a baby wipe?
Make it a point to never flush a baby wipe. No matter how flushable or biodegradable a company claims their product to be, it ends up floating there non-degraded, blocking your drainage system anyways. It now goes on to form a mesh trapping other waste and garbage which may block the passages eventually.
Best Eco-Friendly Wet Wipes
Disclaimer: At no additional cost to you, I may receive a small commission from purchases made through links on this page.
The above content may be overpowering and must have drowned you in guilt. But not to worry, we are glad to tell you that you can still do a lot. Let's know more about biodegradable options.
One major concern with baby wipes is that they are disposable, generating waste as soon as it does their job, which is an issue in itself, no matter how fast it breaks down.
Washcloths take you out of that vicious waste cycle. Being reusable, they can be simply rinsed or washed after each use. This will help you to save money and generate zero waste. It's always a good option to go for cruelty-free, plant-based reusable wipes. Imse Vimse eco-friendly wipes are made of 100% cotton and are sturdy but gentle on skin. They have thick fabric with good absorption. You may add water and baby oil to them to get ready-made natural wipes while travelling.
Eco beginning wipes are made up of pure bamboo marking them truly organic. These are guilt-free as they do not contain plastic, bleach or chlorine and are 100% biodegradable, provided they are disposed of as per the correct method.
The raw material which is the bamboo plant produces more oxygen and requires less water and therefore the whole process from production to product makes the environment a happier place to live.
These dry wipes can be used with any other cleaning substances, and they are feathery but strong and are break free. These can be easily washed manually and used again. These are packaged in recyclable packing.
Using these wipes is super simple, just moisten them with water and they can be instantly used. Being plant-based and reusable, these natural cotton-based wipes are easy on your baby's skin and tough on the mess.
Being cottony soft, these are best for your baby's sensitive skin. They are versatile and can be used with any cleansing material. These wipes are devoid of any synthetic materials like alcohol, chlorine, bleach or fragrances, only unadulterated natural goodness. They are one of the best biodegradable baby wipes on the market.
Simplicity is the best, especially when it comes to the products you use for your baby. Mum & You baby wipes feel cottony soft and are safe to use at any age of the baby. These diapers can be used for cleaning any part including the face and hands too. Being 100% natural, both the wipes as well as their packaging decompose easily. Choose the best for your baby, choose mum and your wipes!
READ: Pampers Aqua Pure Wipes vs. Water Wipes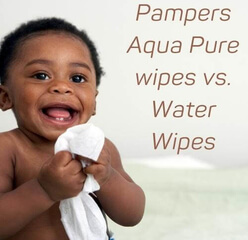 These wipes are cruelty-free,100% plant-sourced, hypoallergenic and vegan. Eco by Naty baby wipes provides effective cleaning with the comfort of being gentle on your little one's skin so you don't have to worry even if your baby's skin doesn't accept synthetic wipes.
Naty also has an aloe vera variant which is free of chlorine or any kind of toxins. Enriched with aloe vera and chamomile, these wipes relax and calm your baby's skin. Say bye-bye to rashes with these all-natural feathery soft wipes. And you know what the best part is, its packaging can be sent to Earth Hero for recycling so it's safe for Mother Earth too.
How reassuring it is to know that Esembly is a member of 1% for the planet and give away 1% of their profits for the sake of the environment.
These pure cotton wipes are of adequate size and thickness for better cleaning and absorbance and create almost no waste. These wipes make sure you do your part in making the environment a better place to live. To use them, just dip them in water or any baby oil solution and these are ready to be used within seconds.
Natracare baby wipes are made of pure cotton and these plant-based wipes are made of organic cotton that's both biodegradable and compostable. They are certainly on the list of best biodegradable baby wipes. Scented with organic chamomile, apricot, and sweet almond oil, they're a delight to use while leaving the skin soft and clean.
The chemical-free wet wipes are delicate while remaining strong, so they won't damage your baby's skin, but do stand up to a thorough clean.
Panda friendly bamboo is a sustainable alternative and is 99.3% derived from bamboo. While the efficacy stays perfect, these wipes are a greener alternative to all other alcohol, chlorine and chemical-based wipes and are therefore completely harmless on your baby's skin. It is also a member of 1% for the Planet and donates a share of its profit for sustainability.
The only minor issue is the packaging containing unnecessary plastic.
These revolutionary wipes are 100% plant-based sourced from organic vegetable and plant extracts. You will be surprised to know that they get decomposed in just 60 days. They are therefore guilt-free too and will disappear long before causing any kind of damage to the environment. It cleanses gently with the goodness of ylang-ylang, tea tree, chamomile, aloe vera, almond oil and more such magical ingredients which keep your baby's skin feeling soft and supple all day. You can say goodbye to alcohol, parabens or other chemicals and switch to these amazing wipes.
What eco-friendly baby wipes should I buy?
The best wipes that you should buy for your baby are reusable cloth wipes like Esembly and ImseVimse. They can be easily washed again and used again, so you are not adding them up in the heap of waste. They are easily adaptable too and can be used dry or wet, whatever works for your baby. You can store some of the wipes in a steel container or any container and you have ready to use zero-waste wet wipes.
In the end, we know that reusable wipes need time and commitment and not all mothers have the luxury to do so. So, it's ultimately your decision on what suits you and your baby best. But whenever you go shopping for the best biodegradable baby wipes, the simplest thing you can do is to ensure that they are made with sustainable material and zero plastic. Organic materials like cotton, wood pulp or bamboo are some of the good choices too!
Please follow and like us: