Expecting a child is such a unique time in a couple's relationship. Even when it is not your first child together, it can make you see new sides of each other and appreciate each other in different ways. It can be a tough time for husbands as they might find it difficult to figure out their place in this changing family structure and how exactly to help their wives. A gift for your pregnant wife can go a long way to help and show that you are available to help. The best gifts for your pregnant wife do not have to cost the Earth either. 
Whether you are looking for a birthday gift or a Christmas gift for your pregnant wife, any one of these will go over very well. 
Disclaimer: At no additional cost to you, I may get a small commission for purchases made through links within this page.
Practical and Thoughtful Gift Options for your Pregnant Wife
1. Body pillow or pregnancy pillow
This could become your wife's best friend if she has been struggling with getting into a comfortable position in bed or with aches and pains at night. Get a good quality one and she might still be thanking you even after the baby is born. These pregnancy pillows can be so comfortable that moms continue to use them well into the postpartum period. 
2. Neck and back massager
The hormonal changes and shifting bones during pregnancy often mean a lot of soreness for women. Particularly in the neck and back where most of us tend to carry the most tension. A pregnancy-safe neck and back massager could be the greatest relief you could offer your pregnant wife. This is especially the case if your own hands are not massage-friendly enough to do the job! 
3. Baby video monitor 
Give your pregnant wife some advanced peace of mind knowing that when the baby does arrive, you have a good video monitor to watch the baby with. 
4. Maternity jacket
These are so interesting to me. I never knew they existed with my baby and now that I do, they seem like such an amazing and necessary invention. You can tuck your baby in your jacket and have both yourself and baby warm and cozy in the colder months. No need to worry about how to strap your baby to your chest over your already thick jacket or feel cold because you've got the baby strapped to your chest beneath your jacket and so can't zip up! Looking for a Christmas gift for your pregnant wife who is due soon? This is a great one.
5. Online breastfeeding classes
This is a sweet gift if you know your wife is planning to breastfeed for the first time. It is also useful if she had a lot of trouble with breastfeeding previously. These classes are great because they cover more than you might expect – from positioning to diaper output to helpful products – all from the comfort of your home. Some of the best gifts for your pregnant wife show that you are thinking ahead.
CLICK BELOW: The Ultimate Breastfeeding Classes
6. A rocking chair
This is a great investment for any new mom and one that will continue to be useful and comforting long after a baby is too big to sit with her in it.
7. Pregnancy journal
You can encourage your pregnant wife to keep a record of as much of this special time as she can by getting her a journal specifically for the duration of her pregnancy. She will love reading it over in years to come.
8. A nursing pillow or boppy
This is one of the best gifts for your pregnant wife if she plans to breastfeed because she can use it even while she is pregnant. It has many benefits from helping the baby latch onto the nipple better to reducing neck and back strain for the woman. 
9. A cute hospital bag
Unless you are planning a home birth, your pregnant wife will need a hospital bag. You could gift her with a really cute and practical one that would be just as useful post-baby as a carry-on/hand luggage for travel.
Dry skin can be the bane of a lot of pregnant women's lives. Get her a rich, intensely moisturising cream or lotion to combat the flaky, dry skin that pregnancy can sometimes cause. Moisturising properly could also help her ward of stretch marks if that is something she is wary of. Remind her to drink plenty of water though, to moisturise from the inside out!
11. A prenatal massage
I fell asleep during one of these and I maintain that it was one of the best things I ever did while I was pregnant. Book a prenatal  massage for your pregnant wife to give her relief from some of the body pains that she may be having. 
READ: How to relax before you give birth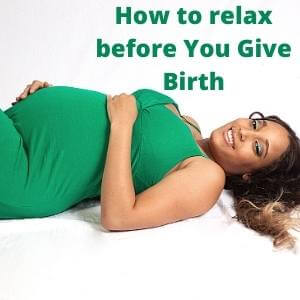 12. Baby memory book
A memory book specially for your baby is meant to document everything and anything that your wife would like to include about life with your baby. It will be interesting for her (and you) to read it in the future but also farther into the future, your child will probably enjoy it too. If your wife does not have #7 above, she might like to start using it while she's  pregnant. 
13. Babymoon 
Where possible and particularly if you have no other little children, this is a great idea. It is a way to enjoy your time together as a couple before you welcome your baby into the family. You could create some wonderful memories together. Just make sure it is not too late into her pregnancy and that she is definitely fit and well.
You'll also like: Trips to take together before baby
14. Meal subscription
This can be such a life saver as meals in subscription packages are usually not long-winded but are also very tasty. Very often in pregnancy, the last thing you really want to do is stand on your feet in a warm kitchen. In your first and last trimesters especially. Worse, you do not want to worry yourself and your family will be eating three or more times a day. Signing up to a healthy meal subscription plan for your family is one of the best gifts for your pregnant wife because it saves her the stress of intensive cooking and meal planning. 
15. A lie-in
This may not be possible every day of the week but whenever it is, you should make it happen for her. Do not let her worry about waking up in time to do anything in the house before 10am, for example. She will love you for this. She will love you even more for this if you already have little children and she can trust you to watch them while she gets in some extra winks every morning.
16. Hire help
Of course, this is not an option for everyone. Where it is though, take advantage of this option. It might not be a daily treat but rather a weekly one where someone helpfully comes in to sort out that pile of laundry, ironing and folding. Or tackles the dust that seems to accumulate so quickly in the rooms. Or a chef to make a bunch of freezer meals to last a week. The tasks around the house that your currently pregnant wife would normally be able to do but cannot. Be mindful of the kind of person your wife is though – is she the type of person who would not mind a stranger in her home a few times a month?
17. Spa day
You could go with her or you could send her off with a friend. Perhaps she would rather go on her own. Either way, she will love being pampered and taken care of for a day. This is definitely one of the best gifts for your pregnant wife especially if she has been a little stressed out lately.
READ: How to have a self-care day at home with children
18. A fancy diaper bag
This is a sweet little treat that is also practical if you get the right one. Don't choose just based on looks. It can be both practical and fancy.
19. Love letters
What wife does not want to read sweet love notes from her husband? Write a long heart-felt one every week or month or leave her sweet notes around the house every few days.
20. Pregnancy photoshoot
A pregnancy photoshoot to document this pregnancy is something that she will absolutely be grateful for. If you do not think she would like it done on location by a professional photographer, you can always set one up for her at home. It's more intimate that way and also creates some bonding time for you two.
READ: DIY Maternity Photoshoot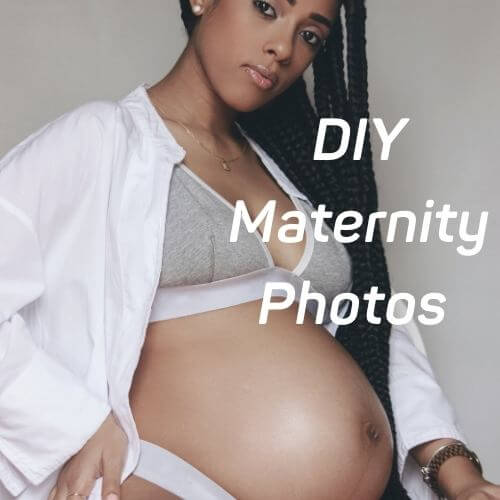 21. Amazon gift card
So you don't think any of the above will work for your pregnant wife? Yet you still want her to have something special? You can always present her with a gift card and give her the opportunity to pick out a gift for herself that she knows she will love.
Ultimately…
Having a baby is a huge deal. Financially as well. If you cannot afford to give your wife any of the above, don't stress yourself out. Know that she wants you to be attentive to her needs more than anything else. The best gifts for your pregnant wife will mean nothing to her if you aren't showing that you care about her. Doing the following may mean more to your pregnant wife than any tangible gift:
It will be hard for you to directly relate and therefore empathize with being pregnant. However, you can try to imagine how much discomfort your wife must be in and all the different changes that her body is going through. Keeping this in mind should help you relate better to her and make you mindful of what she may need.
Really listen to her so that she won't have to make the effort to repeat herself. Also listen to her because that is the only way you will know what it is that she wants. Don't be one of those husbands who asks "What do you want from me?" when you've already been told in a million different ways. Also, do not feel like you are supposed to solve every problem she has. Sometimes, she only needs you to listen. 
Generally…
Be sensitive. Don't make her feel like she might be exaggerating her pregnancy symptoms. Don't call her dramatic or fragile. Don't be helpful one moment and irritated with her the next. Don't think of every expression of pain or discomfort as her complaining. 
Let your show of love and appreciation for her be consistent. Bear in mind that you will both have the most beautiful gift at the end of this unique period in your lives and celebrate that with your wife everyday.
Mamas, what is the best gift you received when you were pregnant?
Please follow and like us: